Ask Dr. Land: Why do we exchange gifts at Christmas?
Gift giving is undoubtedly an integral part of Christmas in the U.S. and in many cultures around the world.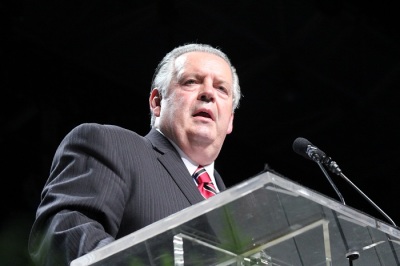 It is an ancient tradition at Christmas time and it's done in commemoration of the greatest gift ever given – when our Heavenly Father sent his only Son into the world to die for the sins of mankind and to make redemption possible for those who confessed Him and his sacrificial death on their behalf.
We celebrate Jesus' birth at Christmas, but Christmas can never be separated from the cross and from the resurrection.
Praise the God of the universe and all that is holy, the birth of our Savior was not only followed by the cross, but also by the glorious resurrection and ascension into heaven by our Savior with the promise to come again and gather us onto himself that "where He is there we may be also."
Jesus is presented in the Scripture as the "good shepherd" that went out after the "lost sheep."
So then Christian, I want to ask you this question, "What does Jesus want for Christmas?" I believe He wants you. He came to seek and to save that which was lost. He wants you to acknowledge your sin and rebellion against Him, to accept his sacrifice on the cross for your sins, to confess Him as your Lord and Savior, and to pledge your allegiance to Him as an obedient and faithful follower of the Prince of Peace.
From the first moment after the fall of man God has been working to bring about mankind's salvation without compromising his righteousness. In Romans 3 the Apostle Paul explained that Jesus' sacrifice on the cross declared God's righteousness in forgiving the sins of the Old Testament saints (they were looking forward to the sacrifice of the cross in the same way we look back to the sacrifice on the cross).
We're given the gift of salvation and once we become Christians we always have the gift of spiritual renewal constantly at hand since he promised Christians in 1 John 1:9 (NIV), "If we confess our sins, He is faithful and just and will forgive us our sins and purify us from all unrighteousness."
Jesus' substitutionary sacrificial death on the cross is truly the gift that keeps on giving.
Dr. Richard Land, BA (magna cum laude), Princeton; D.Phil. Oxford; and Th.M., New Orleans Baptist Theological Seminary, was president of the Southern Baptists' Ethics & Religious Liberty Commission (1988-2013) and has served since 2013 as president of Southern Evangelical Seminary in Charlotte, NC. Dr. Land has been teaching, writing, and speaking on moral and ethical issues for the last half century in addition to pastoring several churches. He is the author of The Divided States of America, Imagine! A God Blessed America, Real Homeland Security, For Faith & Family and Send a Message to Mickey.