Assisted Suicide Sounds Compassionate but Reality Is Different, Human Rights Advocates Say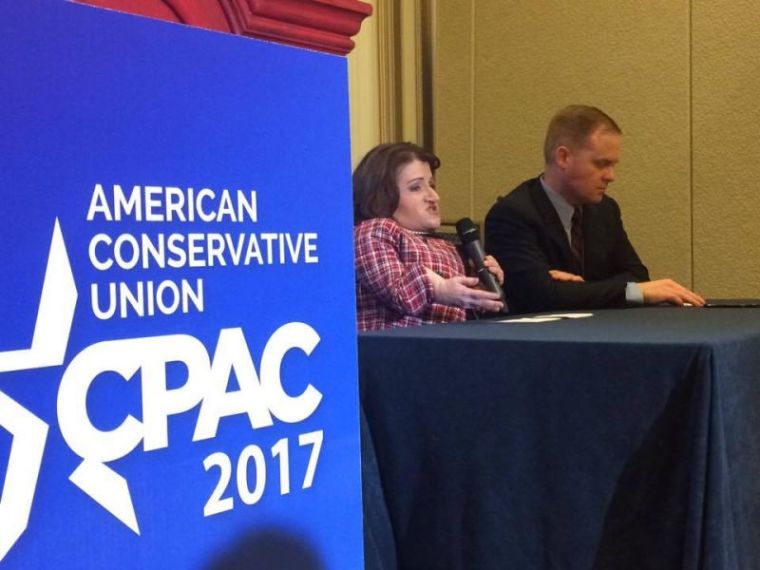 NATIONAL HARBOR, Md. — Legalizing assisted suicide opens the door for all kinds of human rights abuses, puts a price on human life, and diminishes the dignity of the human being, according to conservative leaders gathered at CPAC.
In a Friday breakout session before approximately 40 people at the largest annual conservative political conference at the Gaylord National Convention Center, American Conservative Union policy fellow Julie Hocker and Stanford Swim of the Utah-based GFC Foundation urged attendees to be vigilant and organized as more states address assisted suicide.
Swim said that today assisted suicide is legal in six states and 21 are considering legalizing it.
"That's awfully fast for something that is quite literally a life and death decision," Swim said, noting that such laws exalt personal autonomy but are problematic in that they do not include provisions for mental health screening.
Most of the these bills acknowledge palliative and hospice care are effective but do not necessarily require that a patient considering assisted suicide be told that palliative options are available to them, he added, noting that insurance policies also change as a result of the legalization of assisted suicide and alarming anecdotes are emerging.
Hocker cited the recent case of Stephanie Packer of California, who was diagnosed with scleroderma, a chronic autoimmune disease that causes scar tissue to form in her lungs, a condition doctors told her was terminal. Soon after the state's End of Life Option Act took effect, her insurance company refused to pay for a different chemotherapy drug her doctor had suggested but agreed to pay for the drugs for an assisted suicide — with a co-pay of $1.20.
"That's what the face of this legislation is," Hocker said, who was born with Osteogenesis Imperfecta, a brittle bones condition. Hocker uses a power wheelchair full-time for mobility.
Assisted suicide "is a wedge issue" Hocker said in an interview with The Christian Post following the panel. What begins as assisted suicide for terminally ill patients in agony, has as darker side that can be traced back to the eugenics movement in America leading up to World War II.
The way statutes are written are purposefully gray so as to leave room for questionable interpretation. Once a doctor deems you "eligible" for assisted suicide, "nothing separates them from deeming them eligible from euthanasia," Hocker said.
Already some troubling examples of abuses have taken place around the world.
As CP reported on Feb. 1, in the Netherlands a woman "who was older than 80, was suffering from dementia and had reportedly expressed at an earlier time that 'time was right' to have her life ended. But when the physician injected the lethal drugs her body started to resist and she needed the family to hold her down to the bed while she completed the process."
Although the Dutch doctor was ultimately cleared of wrongdoing, reports said "she didn't speak to her [patient being put to death] about the process 'because she did not want to cause unnecessary extra distress' and create 'further disruptions.'"
Euthanasia advocates have been writing about weeding out undesirables since the 1920s, Hocker continued, and this "is not something that conservatives are making up or are doing to fear folks into an absolute ban on assisted suicide. It's simply the facts."
CP asked Hocker how Christians should engage the issue particularly with those who think assisted suicide is a compassionate choice.
"Who doesn't know a person with a disability or an elderly individual who is still contributing [to society]?" she replied. "They are still needed by those that they love, by those that they work with."
"We are all born with a level of dignity that can't be measured or taken away. Dignity cannot be doled out by our government," she added.
Assisted suicide advocates, she said, insert themselves as the arbiters of dignity, as though they are the ones who confer it on others, where death is seen as a right.
"No one gives me my dignity, my dignity is because I exist," Hocker said.