At Least 10 Dead, 7 Wounded at Umpqua Community College in Oregon; Shooter Who Asked About Religion Now Dead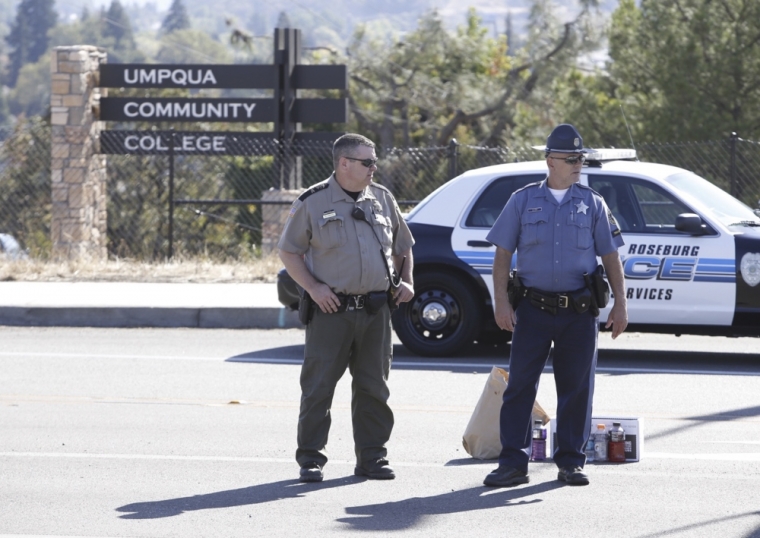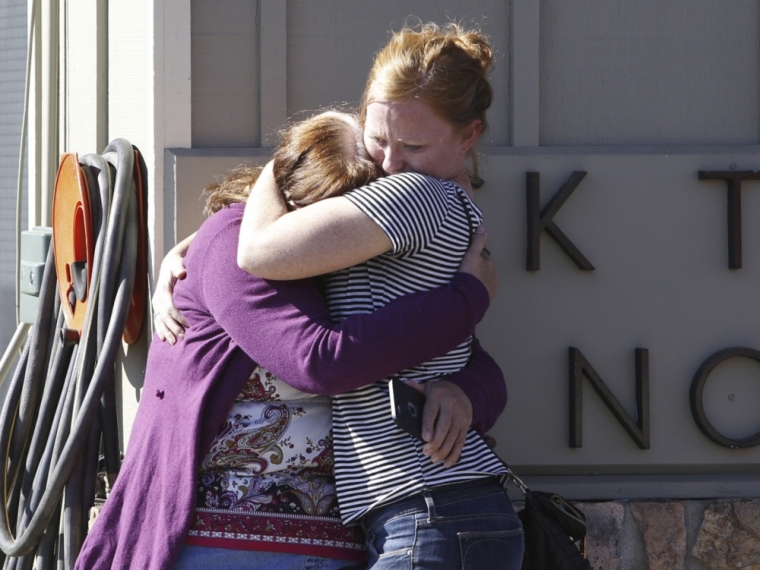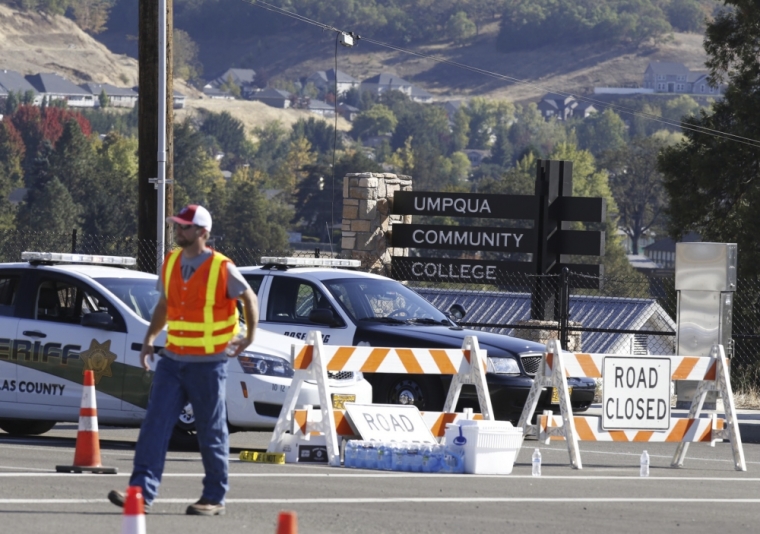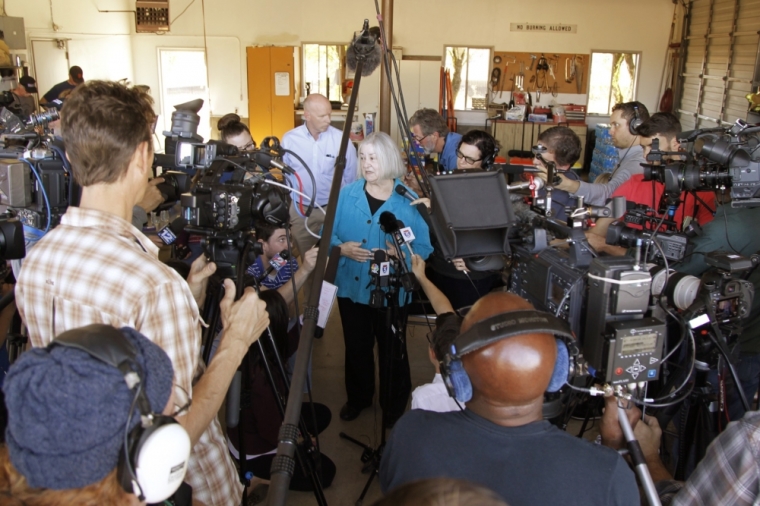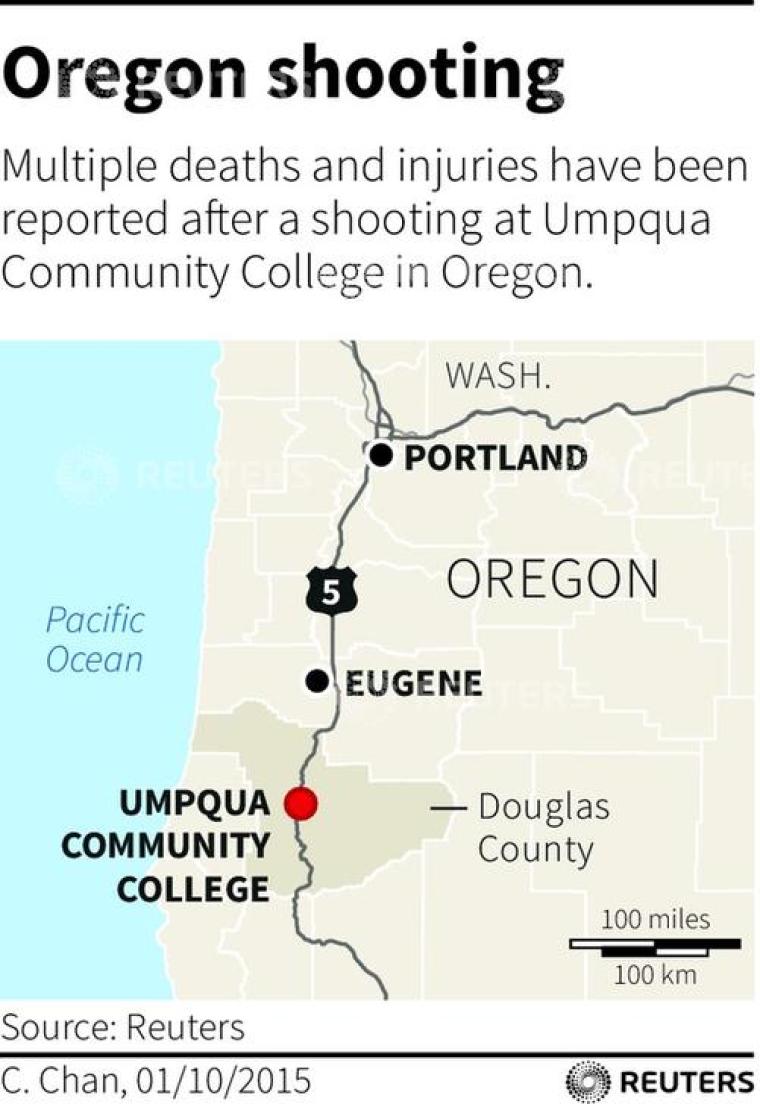 View Photos
At least 10 people are now confirmed dead and another seven wounded after a 26-year-old gunman entered a classroom at Umpqua Community College in Roseburg, Oregon, and went on a shooting rampage Thursday after reportedly asking people to state their religion.
Kortney Moore, 18, told the News Review that she was in her writing class in Snyder Hall when a single shot came through a window. She then saw her teacher get shot in the head.
The shooter, who is now deceased, was inside the classroom at that point, and he ordered people to get on the ground. Moore said the shooter then began asking people to stand up and state their religion before he started firing away. She said she stayed on the floor with the people who had been shot during the massacre.
Douglas County Sheriff John Hanlin confirmed the shooter's death with CNN, explaining that after learning about the shooting at the college, officers from around Douglas County "engaged that suspect (and) there was an exchange of gunfire." He is counted among the 13 casualties but his name has not yet been released by police.
Sources told CNN that the alleged shooter appeared to have had conversations with others online about his intentions the night before the rampage.
According to The New York Times, the college campus remained on locked down. People who were not injured during the shooting were being bussed to the Douglas County fairgrounds where friends and relatives are being directed to meet them.
"So glad to be safe, but I'm still a little shell-shocked. Those of us who were on campus know less than everyone else — they weren't telling us anything as they put us on buses and drove us offsite. BIG THANKS to local authorities who were on site within minutes," wrote Amy L. Fair, of Roseburg, who survived the attack in a post to Facebook on Thursday.
Brady Winder, 23, of Portland, told News Review that he was in the room next door to the class in Snyder Hall when he heard a loud thud that didn't sound like a gunshot. He then heard a barrage of gunshots which sent students scrambling out the door.
They left "like ants, people screaming, 'Get out!'" Winder said.
Andrea Zielinski with the Douglas County Sheriff's Office told the Register-Guard that deputies responded to reports of shots fired at the school at 10:37 a.m.
The two-year school which was established in 1964 has about 3,300 full-time students and 16,000 part-time students.
Reacting to the tragedy on Twitter, Oregon Gov. Kate Brown said: "My thoughts are with the families and victims of today's tragedy."
President Barack Obama addressed the nation around 6:15 p.m. ET on Thursday.to extend his condolences to the victims' families and discuss gun control and gun violence.
THIS IS A DEVELOPING STORY.