Atheist Groups File Lawsuit Against Ten Commandments Display in Arkansas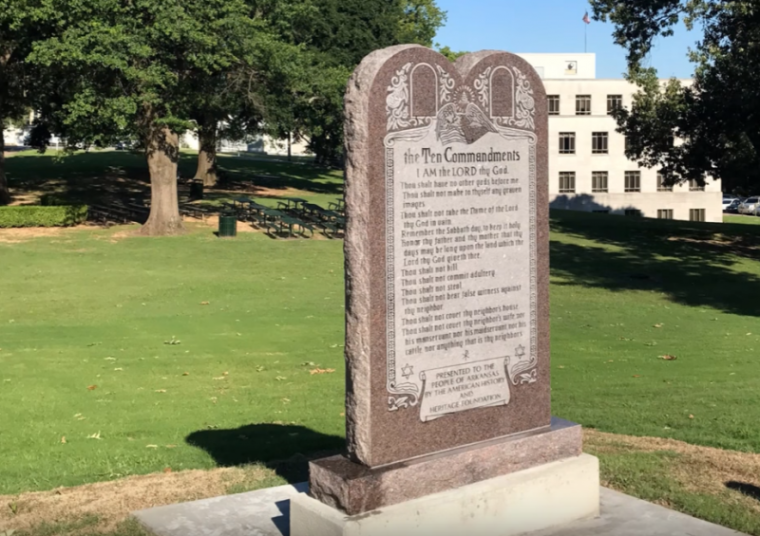 A pair of atheist organizations, along with an interfaith group of citizens, have filed a lawsuit against Arkansas over a Ten Commandments display placed on their capitol grounds.
In 2015, Arkansas passed a law allowing for the construction of a Decalogue display on the capitol grounds in Little Rock, with a monument being erected last year.
In a suit filed Wednesday in district court, the American Humanist Association and the Freedom From Religion Foundation argued that the monument violated the First Amendment of the US. Constitution.
"Civil rights and secular organizations, as well as local citizens, challenge this symbol because it violates their First Amendment rights," says the suit.
"The State of Arkansas may not, consistent with the Constitutions of the United States and the State of Arkansas, instruct its citizens which God to worship, forbid its citizens to use a particular deity's name in vain, or require sabbath observances for religious purposes."
In addition to the secular groups, other plaintiffs listed in the lawsuit include professed Christians, a rabbi, and a United Methodist Church minister.
The American Civil Liberties Union of Arkansas has also filed a separate lawsuit against the monument, echoing the arguments of the AHA and FFRF.
State Senator Jason Rapert, who sponsored the legislation allowing for the Ten Commandments monument to be erected at the capitol grounds, released a statement denouncing the lawsuits filed by entities he labeled "anti-American organizations."
"I am encouraged that Arkansas Attorney General Leslie Rutledge and her office are prepared to defend the people of Arkansas and the Ten Commandments Monument which honors part of the historical and moral foundation law," stated Sen. Rapert, as quoted by local media.
"If the Ten Commandments are good enough to be displayed in the United States Supreme Court Chamber and other state capitol grounds in Texas and around our nation, then they are good enough to be displayed in Arkansas. I look forward to a vigorous defense of the law in Arkansas."
In 2015, the Arkansas legislature passed what was called "The Ten Commandments Monument Display Act," with Governor Asa Hutchinson signing it into law.
In 2017, a monument was erected on the capitol grounds through private funding, although within 24 hours a 32-year-old man destroyed it by driving his car into the display while shouting "freedom!" just before impact.
Last month, a new Ten Commandments monument was erected in place of the vandalized one, with protective barriers installed.