Atheist to Deliver Invocation in City at Center of Supreme Court Case on Prayer
Just months after the New York town of Greece won a Supreme Court ruling permitting it to open its community meetings with sectarian prayer, an atheist is set to lead the invocation on Tuesday night.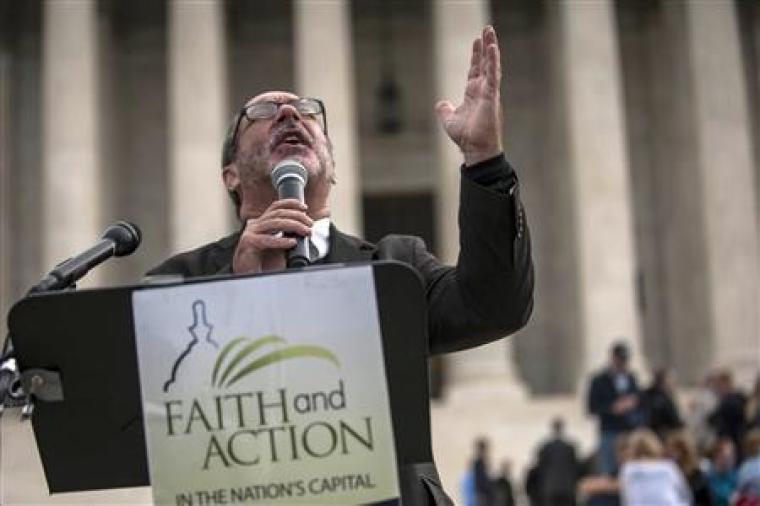 Dan Courtney, whom the Associated Press identifies as a mechanical engineer and a member of the Atheist Community of Rochester, made his request to Greece leaders following the Supreme Court decision in May.
In Town of Greece v. Galloway, the highest court ruled 5 to 4 that Greece could select Christian ministers to offer explicitely Christian prayers before their town meetings.
"The decision concluded that legislative prayer, while religious in nature, has long been understood as compatible with the Establishment Clause. As practiced by Congress since the framing of the Constitution, legislative prayer lends gravity to public business, reminds lawmakers to transcend petty differences in pursuit of a higher purpose, and expresses a common aspiration to a just and peaceful society," wrote Justice Anthony Kennedy in the majority opinion.
In 2008, Greece was sued by residents Susan Galloway and Linda Stephens who argued that the town meeting prayers were unconstitutional, as they allegedly showed a favoritism toward Christian ministers and Christian prayers.
Kennedy invoked the 1983 Supreme Court case Marsh vs. Chambers as the source of why the Court ruled in favor of Greece.
Courtney cited Justice Antonin Scalia's comments as the impetus behind his invocation bid.
"[Scalia] asked 'What is the equivalent of prayer for someone who is not religious?' and there was this laughter in the courtroom," Courtney told Democrat and Chronicle. "That revealed this huge blind spot, not just of Justice Scalia, but of many theists who don't understand how a nonbeliever can participate. I felt I needed to step forward and show that nonbelievers can participate and can provide invocations."
In his invocation, Courtney intends to quote parts of the Declaration of Independence.
Town supervisor William Reilich noted that previous invocations have represented of variety of faiths and shot down ideas that there might be a backlash to Courtney's invocation.
"The only unusual thing here is that this group notified the press," he said. "They're making more of this than there usually is."
Also in response to the Supreme Court's decision, Metroplex Atheists Rowlett in Texas asked the Rowlett City Council earlier this month if they could give the invocation prayer at their next meeting.
Randy Word, president of Metroplex Atheists, told The Christian Post that, while his group wanted sectarian prayers removed from public meetings, the Court's decision earlier this year "went against us in that regard."
"Atheists have always been made to feel like second-class citizens when a government meeting is opened with a Christian prayer. This action sets the stage up front for an atmosphere of an in-group, thereby leaving everyone else in the out-group," said Word.
"By allowing an atheist to deliver a secular invocation, it would at least give us the feeling that we are a part of the community and would demonstrate that the local government is indeed treating all their citizens equally and fairly."