AG Sessions Says Christian Bakers Have 'Fundamental Right' to Refuse Gay Weddings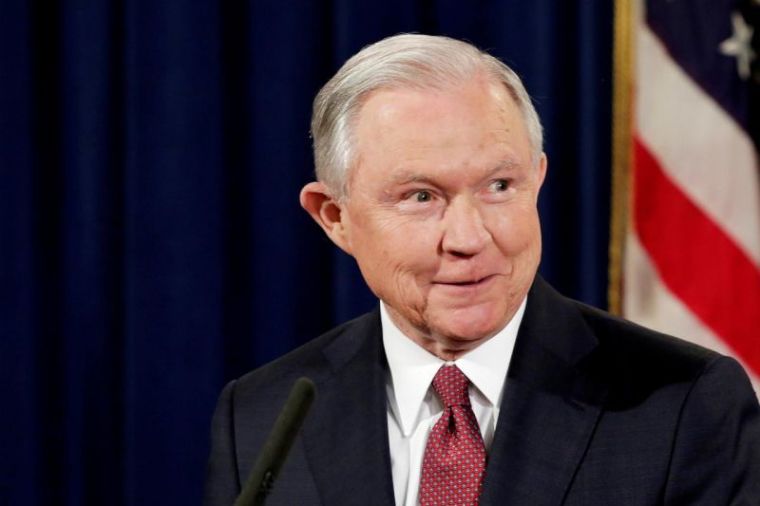 United States Attorney Gen. Jeff Sessions says that Christian bakers have the "fundamental right" under law to refuse to bake cakes for same-sex weddings.
The 70-year-old Sessions recently sat down with the Christian Broadcasting Network's David Brody for an interview following the issuance of his sweeping guidance on religious liberty last week that instructs all federal agencies to protect individuals and organizations' rights "to perform or abstain from performing certain physical acts in accordance with one's beliefs."
In the interview, Sessions was asked about the agency's view on whether religious wedding vendors should be forced by law to provide services or products to a same-sex weddings even though it might violate their convictions. Christian business owners throughout the nation have been punished and even fined thousands of dollars by state governments because their refusal to participate in same-sex weddings have been deemed violations of state ordinances that ban discrimination on the basis of sexual orientation.
"Well what I would say to you now, while the matter is in litigation, but I would just say to you that too often we have ignored what the Constitution actually says," Sessions argued.
"It says Congress shall make no law respecting the establishment of a religion nor prohibiting the free exercise thereof," he continued. "So the question is, the cake baker has more than just a personal view here. He has a religious view and he feels that he is not being able to freely exercise his religion by being required to participate in a ceremony in some fashion that he does not believe in."
Sessions contended that the agency believes that right for a religious business owner to refuse to participate in an event that violates his or her beliefs is "a fundamental right and ought to be respected as we work through this process."
Sessions asserted that the Religious Freedom Restoration Act of 1993 states that the government shouldn't constrict an individual's religious belief "without a compelling reason to do so."
"So we think that statute has been ignored too often and not respected sufficiently," he stated.
Sessions' interview with CBN comes as the U.S. Supreme Court has agreed to hear the case of a Colorado baker who was punished for refusing to serve a same-sex wedding.
Sessions' guidance, which was issued last Friday, explains that religious individuals, organizations and even for-profit businesses are entitled to RFRA protections and stressed that the federal government doesn't have any standing to "second-guess the reasonableness of a religious belief."
"RFRA applies to all sincerely held religious beliefs, whether or not central to, or mandated by, a particular religious organization or tradition," Sessions wrote. "Religious adherents will often be required to draw lines in the application of their religious beliefs, and government is not competent to assess the reasonableness of such lines drawn, nor would it be appropriate for government to do so."
Religious freedom advocates and social conservatives praised the Justice Department guidance. Tony Perkins, the president of the Washington, D.C.-based conservative think tank Family Research Council, said in a statement that the Sessions' guidance represents a big shift in policy from what became normalized under the previous administration.
"Under the Obama administration, agencies lost the understanding that religious freedoms extend to the public square, not just one's place of worship. As a result, our own government began threatening hardworking, patriotic Americans with crushing fines for simply seeking to live their lives according to their faith," Perkins said. "President Trump and the Department of Justice are putting federal government agencies on notice: you will not only respect the freedom of every American to believe but live according to those beliefs. This is a freedom that has been a fundamental part of our society since the beginning of our nation."
LGBT advocates were quick to voice their displeasure with Sessions' guidance.
"Freedom of religion is one of our nation's most fundamental values, which is why it is already strongly protected by the First Amendment to the Constitution," Rebecca Isaacs, executive director of the LGBT advocacy group Equality Federation, told The Washington Post. "But the freedom of religion does not give people the right to impose their beliefs on others, to harm others, or to discriminate."
Last week, Sessions also issued a memorandum that states that Title VII of the Civil Rights Act's ban on sex discrimination only relates to biological sex and does not protect against transgender workplace discrimination. Sessions' memo also stressed that the Justice Department can't "expand the law beyond what Congress has provided."