Ben Carson Confidant Armstrong Williams Booed for Saying 'Everything in America Not Always About Race' at NAN Convention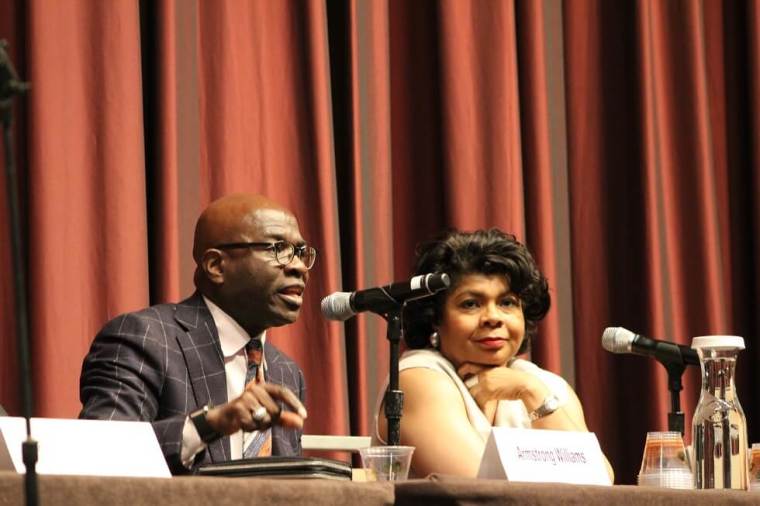 NEW YORK — Armstrong Williams, longtime confidante of retired neurosurgeon Ben Carson, drew the wrath of attendees at Al Sharpton's National Action Network convention in New York City Wednesday when he was roundly booed for declaring "everything in America is not about race."
Williams, who appeared on a panel with other speakers such as John Podesta, chairman of the 2016 Hillary Clinton presidential campaign, also criticized the Democratic presidential frontrunner and her husband, former President Bill Clinton, shortly before she also addressed the same crowd.
"The good thing about life is people can make many promises and we can trust them with our vote. We can trust them with our money and our time. And you get to a point where you ask yourself — who are the people benefiting from your commitment, your time and your resources?" he asked the crowd which had already began to grow restless inside the Metropolitan East Ballroom at the Sheraton Times Square.
"I've found over time there's really not much difference between Republicans and Democrats when it comes to everyday people," he said, as reactions continued to boil.
"You sit here. You hear the race speeches because they feel that's what you want to hear. Everything in America is not always about race," he said rather bluntly as the room erupted in boos.
Undaunted by the hostility, however, Armstrong pressed on with his speech.
"I will say it again. Everything in America when it comes to achievement and accomplishment and success is not about race," he asserted. The crowd booed even louder, forcing him to eventually declare: "You know, I don't mind the boos because I'm used to it."
The crowd, however, would not relent until the moderator intervened and urged them to listen even if they don't agree with his views.
"And in no way do I say what I say to be disrespectful or dismissive," Williams continued.
"You know, Americans, whether you like it or not, are not in love or enamored with anyone in the establishment or the Republican or Democratic side of things. And that is obvious by the rise of Bernie Sanders and Donald Trump," he added.
"There is something that has gone terribly wrong in America, why America has been rebelling against the establishment, because they have not delivered for the people where it matters most. And Americans are speaking up. We can stay in this room but I will tell you there is also a spiritual part to the things in this world. There is a morality component."
He then warned them not to be surprised if an establishment candidate is not elected the next president and urged them to make the candidates earn their vote.
"I can't sit here today and tell you from my experience in politics who the next president will be, but don't bank on it that it will be anyone from the establishment 'cause no one can tell you where this wind is going and where it's gonna end up," he said.
"Now, I say to you, don't allow the Republicans or Democrats anymore to make empty promises, show up in your house when they need your vote and don't deliver things you need in your schools; when it comes to terrorism; when it comes to education and when it comes to the things that matter to you," he continued.
"They will show up and say whatever [you] wanna hear but look, you're too wise and too smart to understand. They must earn your vote. That is what this election is about. The American people have become intelligent. They've become wise to the ways of these politicians and no longer will brethren and spending dollar with so-called leaders and people in the community are going to go out in droves and vote for these people," Williams continued.
"It's not enough. Americans are tired. They are tired because they don't know if they're gonna pay their rent tomorrow. They don't know what the outcome is gonna be whether their child is gonna finish college. So make these people earn your vote. If it's Donald Trump, so be it. If it's Bernie Sanders, so be it," he added to another smattering of boos.
"Do not allow the Clintons and the establishment to waltz in here and raise their hand and everything is OK. Let them earn your vote … 'cause you know the truth when you hear it. And if you talk about race, they played the race card, too as they did in South Carolina against Barack Obama. Don't get caught up in the short memory. This is a business. They'll say whatever they need to say. Do whatever they need to do to get elected. But you be wise, you be smart and make them earn your vote," he eventually ended to a mixture of applause and a somewhat discombobulated crowd.