Ben Carson Claims He Would Have Fought Back Oregon Shooter, Wouldn't 'Just Stand There'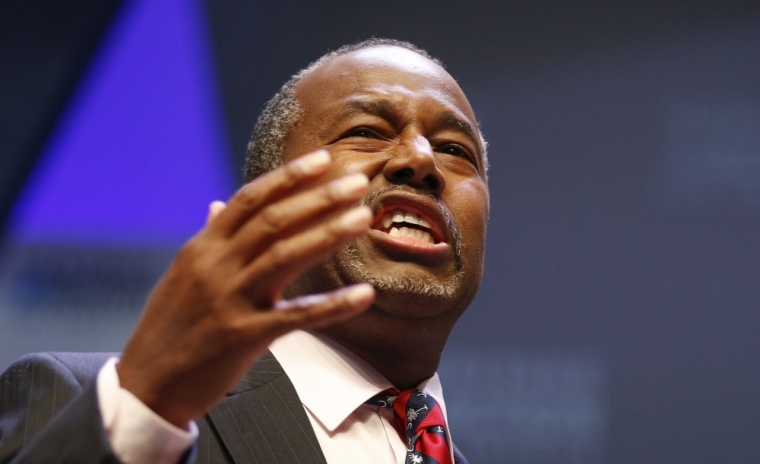 GOP presidential candidate Ben Carson claimed on Tuesday that if he had been at the scene of the Oregon shooting massacre last week, he would have organized the other students to attack the shooter and take him down.
"I would not just stand there and let him shoot me," Carson said on "Fox & Friends."
"I would say, 'Hey, guys, everybody attack him. He may shoot me, but he can't get us all.'"
The shooter, Christopher Harper-Mercer, managed to kill nine people at Umpqua Community College in Roseburg, before taking his own life.
Harper-Mercer reportedly asked students about their religion, and killed those who identified as Christians. CNN noted that witnesses said he killed people regardless of what they answered, however.
Reuters added that the intervention of a student, Chris Mintz, a 30-year-old U.S. Army combat veteran, likely saved the lives of a number of others. Mintz was shot after attempting to stop the gunman, and continued pleading with him while bleeding on the ground.
Mintz survived, but has been hospitalized with two broken legs and several bullet wounds.
President Barack Obama has blamed, in part, loose gun laws for the tragedy.
"There is a gun for roughly every man, woman, and child in America. So how can you, with a straight face, make the argument that more guns will make us safer?" Obama asked in his speech.
"We know that other countries, in response to one mass shooting, have been able to craft laws that almost eliminate mass shootings. Friends of ours, allies of ours — Great Britain, Australia, countries like ours. So we know there are ways to prevent it."
Carson claimed, however, that guns are not the problem, and said that blaming gun laws is a way for some to "politicize" the shooting.
"When do we get to the point where we have people who actually want to solve our problems rather than just politicize everything?" Carson said. "I think that's what the American people are so sick and tired of."
The retired neurosurgeon added in a Facebook post on Tuesday that the Oregon shooting has not changed his support for the Second Amendment. He said that as a doctor, he spent many nights "pulling bullets out of bodies," but claimed that none of his experiences have convinced him that the right for Americans to arm themselves should be taken away.
"Serious people seek serious solutions. The Left would prefer to use these tragedies to advance a political agenda. To me, that is also devastatingly sad," Carson wrote.
"The Left would have you believe that a man that asked Christians to stand up (and then executed them one by one) would obey 'new gun laws.' That kind of logic explains many of the problems we find ourselves in today."