Ben Carson: LGBT Americans Should Not Get 'Extra Rights,' All Have Same Rights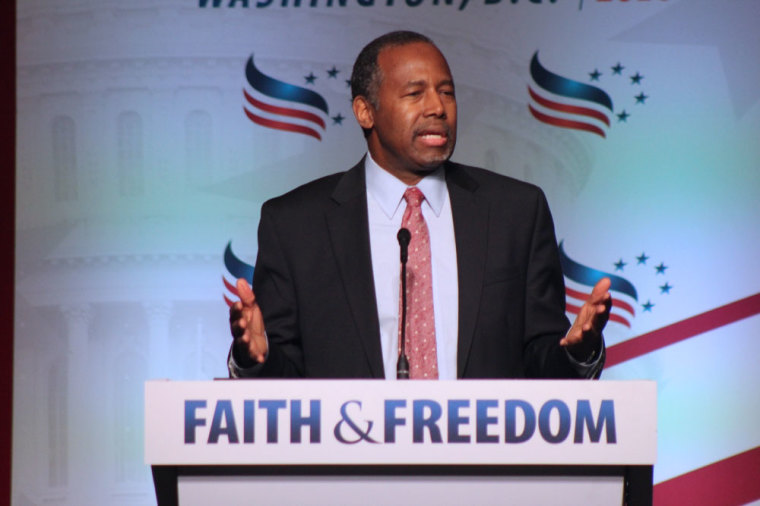 Dr. Ben Carson, President-elect Donald Trump's pick to be the next Secretary of Housing and Urban Development, reiterated during a confirmation hearing that although all Americans should be protected under the law, LGBT people should not be granted any "extra rights."
Responding to a question by Sen. Sherrod Brown, D-Ohio, on whether he would secure protection for LGBT people in the public housing sector, Carson responded:
"Of course, I would enforce all the laws of the land."
"Of course, I think all Americans should be protected by the law," the retired neurosurgeon added, according to The Hill.
"What I have said before is I don't think anyone should get 'extra rights.'"
Carson similarly said during a 2014 CPAC speech that gay people deserve the same rights as everyone else, but they shouldn't be granted extra rights.
The former GOP presidential candidate argued at the time that they also should not get to "redefine marriage," though same-sex marriage has since been legalized nationwide in America following a 2015 Supreme Court decision.
Carson has also criticized gender identity confusion in society, and in July 2016 during a Florida delegation breakfast near the Republican National Convention in Cleveland said:
"For thousands of years, mankind has known what a man is and what a woman is."
"And now all of a sudden we don't know anymore. Now, is that the height of absurdity? Because today you feel like a woman, even though everything about you genetically says that you're a man or vice versa?" Carson asked, according to CNN.
The retired neurosurgeon further compared changing genders to trying to change one's ethnicity.
"Wouldn't that be the same as if you woke up tomorrow morning after seeing a movie about Afghanistan or reading some books and said, 'You know what? I'm Afghanistan. I know I don't look that way. My ancestors came from Sweden, or something, I don't know. But I really am. And if you say I'm not, (then) you're racist,'" he said at the time.
In October, a month before the general election, Carson argued that Christians are facing an "all-out attack" on religious freedom in America.
"Laws are being passed both here and around the globe that continue to erode our rights to share the Gospel, and to live our lives according to the Bible. Courts are now ruling that laws that have protected our churches and businesses for decades are unconstitutional," he said in a Facebook video at the time.
"If we don't turn things around soon, the America we have grown up with will be gone, right along with our freedoms," he added.
Carson urged Christians throughout the campaign to vote based on a 'biblical worldview,' and said that believers must make their voices heard.