Ben Carson Rips Politico's 'Bold-Faced Lie'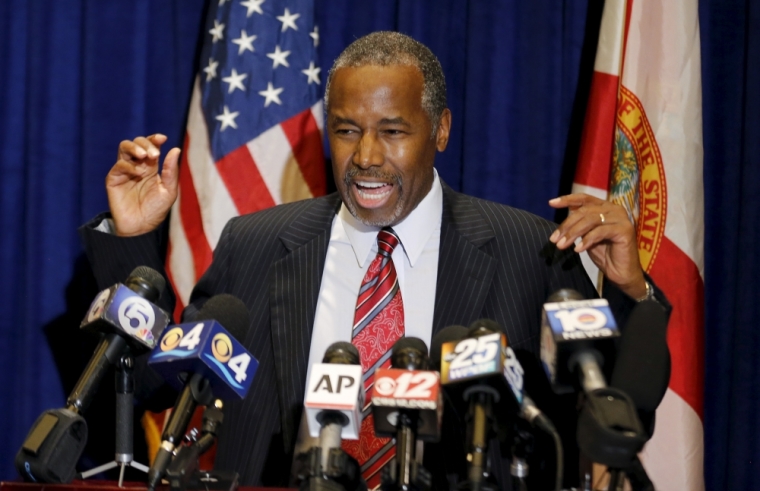 Peeved by recent attacks on his credibility, renowned neurosurgeon and 2016 GOP presidential candidate Ben Carson ripped into the media Friday for lying to tarnish his image.
Reacting to the latest attack by Politico, which falsely reported Friday that his campaign admitted his claim of applying to and getting accepted into the U.S. Military Academy at West Point on a "full scholarship" was fabricated, Carson scolded the media sternly: "Don't lie!"
"I never said I received a full scholarship," said Carson in a testy news conference before the Black Republican Caucus of South Florida "Diamonds & Ice" Scholarship gala in Palm Beach Gardens, Florida. "I never said — wait a minute, don't lie! I never said I received a full scholarship. Nowhere did I say that."
Carson told reporters: "Politico, as you know, told a bold-faced lie. They have been called out on it by The Washington Post and The New York Times and I'm sure there will be several others who call them out on that. Because there are actually some people with integrity in your business."
He further slammed the attacks as being made by desperate people who can't find the scandal in his life they were hoping to find.
"There is a desperation on behalf of some to try to find a way to tarnish me, because they have been looking through everything. They have been talking to everybody I've ever known, everyone I've ever seen. There's got to be a scandal, there's got to be a nurse he's had an affair with. There's got to be something. They are getting desperate. So next week it will be my kindergarten teacher who said I peed in my pants," he said.
The 2016 presidential candidate went even further to bolster his credibility on the weekend when he provided documentation supporting parts of his story being questioned by media.
"On Friday Washington political news tabloid published a story they partially retracted after it became apparent it was a fabrication. They did maintain though that I was in error when I referred to being offered a Full Scholarship they went so far as to say such a thing didn't exist. So where is the truth," said Carson in a Facebook post in which he provided West Point recruitment literature supporting his claim.
"Here is a copy of the material West Point used to recruit African American high school kids. Wouldn't you know it? 'Full Government Scholarship' printed on the front page. I won't hold my breath for an apology. Shame on them," said Carson.
He also took aim at the Wall Street Journal in another post.
"On Saturday a reporter with the Wall Street Journal published a story that my account of being the victim of a hoax at Yale where students were led to believe the exams they had just taken were destroyed and we needed to retake the exam was false. The reporter claimed that no evidence existed to back up my story. Even went so far as to say the class didn't exist," wrote Carson. "Well here is the student newspaper account of the incident that occurred on January 14, 1970. Will an apology be coming? I doubt it."