Ben Carson Shares With Iowa Church How He Became Christian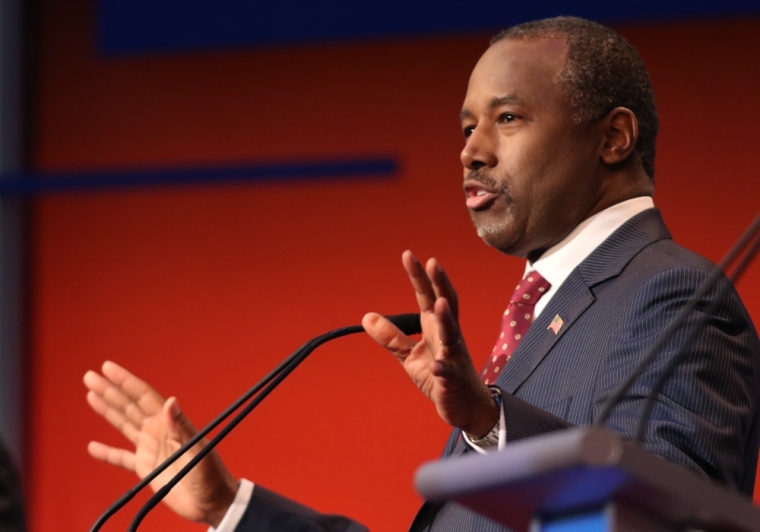 Republican presidential candidate Dr. Ben Carson spoke at LifePoint Assembly of God in Osceola, Iowa, on Sunday, telling the congregation how he accepted Christ as he spent three hours locked in the bathroom as a teenager in Detroit.
Carson said he was full of anger when he was a teenager living in poverty in Detroit, and thought he would die young. But a turning point came in his life after he spent three hours locked in the bathroom one day and got to read Proverbs.
"When I came out, my temper was gone and I've never had a problem since," The Des Moines Register quoted the retired neurosurgeon as saying.
Carson, the only African-Amercian presidential candidate for 2016, said two stories inspired him in his life: Up from Slavery, an autobiography of Booker T. Washington, and the account of Joseph's life in the Old Testament in the Bible.
"That really spoke volumes to my heart. Where you end up has a lot to do with the attitude you adopt in your life," he told the congregation.
Speaking about what America needs, Carson quoted 2 Chronicles 7:14, "If my people, who are called by my name, will humble themselves and pray and seek my face and turn from their wicked ways, then I will hear from Heaven, and I will forgive their sin and will heal their land."
"I don't think there's anybody who can deny that our land right now is in need of God's healing hands," he stated.
While introducing Carson, the Iowa church's Lead Pastor Chuck DeVos said, "Dr. Carson is not here to campaign today. We're not saying go vote for Dr. Carson. We're saying here's a man who walks humbly before his God, who has an incredible message not only for us but for our country."
Earlier this month, Carson was asked on NBC's "Meet the Press" whether the Bible has authority over the Constitution.
"I think probably what you have to do is ask a very specific question about a specific passage of the Bible and a specific portion of the Constitution," Carson replied. "I don't think you can answer that question other than out of very specific contexts."
During the interview, Carson was referred to as "the other non-politician who's been breaking through."
"I think it's a tremendous help," Carson said, about his lack of political background. "It's a tremendous aid because fewer people are talking about my lack of political experience now. And that's good because, you know, experience can come from a variety of different places. And certainly the life that you have led, you know, in my case, you know, solving complex problems, being involved in corporate America, starting a national nonprofit, you get an enormous amount of experience doing these things, particularly in solving problems. And, you know, it's an erroneous thought that only political experience is expedient."
In May, Carson shared how God helped him "ace" his chemistry exam at university by showing him all the answers.
Carson, who was a featured speaker at the official National Day of Prayer gathering in Washington, D.C., said he won a scholarship to Yale and thought he was "pretty hot stuff" but only until he got to the end of the first semester.
"I was failing chemistry; that wasn't cool at all. And you can't be a pre-med and fail in chemistry," said Carlson.
The night before the final exam, he was thinking about his life. He prayed, saying, "Lord, medicine is the only thing I ever wanted to do. … Would you please tell me what is it you really want me to do?"
He planned to prepare for the exam the whole night, but fell asleep. He had a dream in which he was alone in an auditorium as some "nebulous figure" wrote out chemistry problems on the blackboard.
"When I went to take the test the next morning, it was like 'The Twilight Zone,'" he said. "I opened that book and I recognized the first problem as one of the ones I dreamed about. And the next, and the next, and the next, and I aced the exam and got a good mark in chemistry. It worked out okay," he added.
"And I promised the Lord He would never have to do that for me again."