Ben Carson to Liberty University: Christian Values Needed for America's Survival as Pinnacle Nation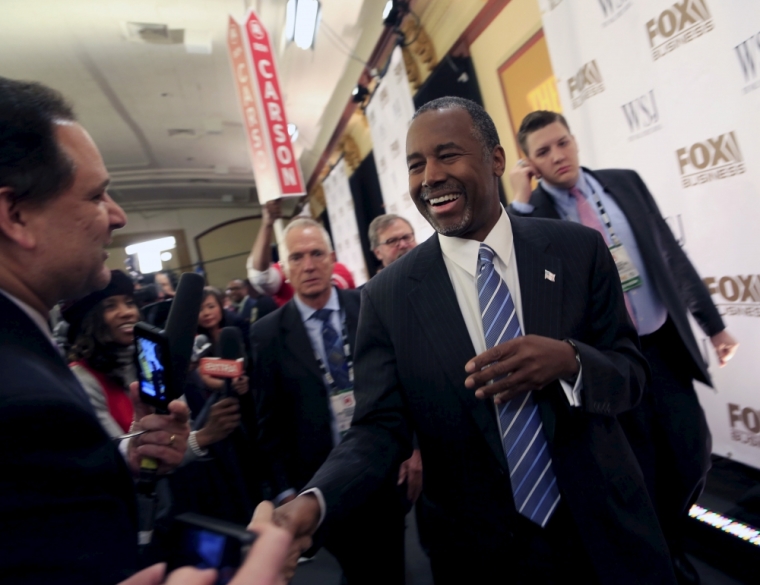 Presidential candidate Ben Carson spoke Wednesday at Liberty University where he urged students to stand up to what he called a "secular progressive agenda," while praising the university for its Christian worldview.
"We have so many people trying to push God out of our lives," Carson said. "They take the Word of God and negate it and say if you believe in it, 'you are some kind of idiot.'
"Let me tell you, our nation's survival as the pinnacle nation in the world, I believe, is rooted in our value system."
Carson, 64, asked those assembled at the largest Evangelical university in the world if they are willing to stand up for those values and stand up to the "secular progressive agenda" that is trying to silence Christians.
"The secular progressives don't care whether you agree with them or not, as long as you sit down and keep your mouth shut, and I think that the secret to the prosperity in this nation is we must be willing to stand up for what we believe in," added Carson.
Carson, a retired neuro-surgeon, argued, as the American Founders did, that a well-informed populace is essential to liberty and the future of the Republic.
Currently Carson has a one point lead over GOP rival Donald Trump in the latest national poll and is holding up against new questions about the accuracy of his background in his published books and comments.
"Anybody who knows me, knows I am an honest person," Carson said during Tuesday's GOP debate in Milwaukee, Wisconsin.
During his appearance at Liberty, Carson defended his flat tax proposal, saying he likes the comparison to tithing because "God is the fairest individual of all." Carson said that those at the poverty level will get a tax-rebate.
Carson called the public debt a crisis, and like Barack Obama and Thomas Jefferson have said, argued that passing public debt from the Treasury to future generations of Americans is "immoral."
The retired neuro-surgeon defended his creationist worldview, countering that it requires more faith to believe the existence came to being by a spontaneous accident.
"Everybody believe what you want to believe. Isn't that part of the problem of society today? People want to force their beliefs on everybody else," Carson declared. "I believe that the Constitution gives everybody the same rights but gives nobody special rights."
During the question and answer segment, when Carson was asked what advice he had for college students he simply recited Provers 3:5-6:
"Trust in the Lord with all your heart, lean not to your own understanding, in all your ways acknowledge Him, and he will direct your paths."
He added to applause a passage from Romans 8:31, "If God is for us, who can be against us?"
Carson said that the Scripture from Proverbs has sustained him through many tough times, adding that "I cling to it now when so many in the media want to bring me down because of what I stand for."
Fielding more questions, Carson noted there should be more legislation to give Christians religious liberty protections for their beliefs about marriage being between a man and a woman. Carson added he would use the bully pulpit to defend the institution of marriage as president.
The presidential candidate claimed that he was not a politician to the assembled at Liberty and boasted that he had received donations from over 900,000 average Americans seeking change in the political process. He argued that the Founders did not envision professional politicians, but "citizen servants."