Benham Bros Slam AP Report on NC's Bathroom Bill: 'The Devil Is the Father of Lies'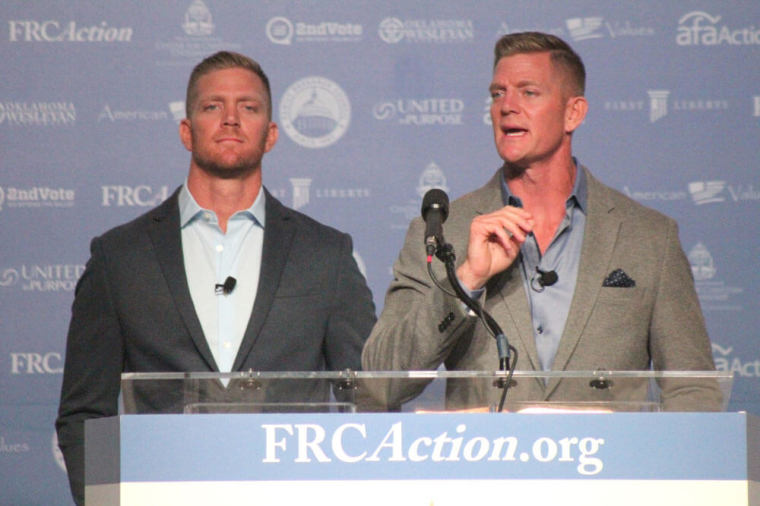 Conservative Christian real estate entrepreneurs Jason and David Benham decried an Associated Press report that claims that North Carolina could lose as much as $3.76 billion over the course of the next 12 years because of the state's controversial bathroom law.
The brothers, who live in North Carolina and have been avid defenders of the state's House Bill 2 passed last March, asked their supporters on Thursday — the day state lawmakers are scheduled to vote on a deal to repeal the controversial legislation — to issue one last plea to conservative legislators to save the bill.
The twin brothers, who had their HGTV show canceled in 2014 because of their religious views on marriage and sexuality, took issue with an AP report published on Monday that suggests that North Carolina's economy could lose $3.76 billion by 2028 because of corporate backlash to H.B. 2.
"David and I have an actual story to show you exactly what fake news looks like," Jason Benham said regarding the AP report.
Because North Carolina's law prevents local governments from enacting transgender bathroom ordinances and requires people to use state-operated bathrooms consistent with their biological sex, numerous corporations, entertainers and organizations have retaliated negatively in some form or another against the state, causing the state to lose sporting events, concerts, business expansions and other financial benefits.
The AP-conducted analysis, compiled through interviews and public record requests, claims to represent "the largest reckoning yet of how much the law, passed one year ago, could cost the state."
The analysis, using future projections for companies like Deutsche Bank, PayPal, CoStar, Adidas and Voxpro, found that the state could lose nearly $4 billion by 2028 and also states that it "is likely an underestimation of the law's true costs."
"Here is what happens. The Devil is the father of lies. He is a schemer. He is crafty. And his nature is a liar," David Benham said in the video. "So what is happening right now, North Carolina General Assembly is going to be voting on a bill today. The Texas General Assembly is also talking about a bill to protect their bathrooms and religious liberties in their state. What is happening is these radical revolutionaries who are pushing an agenda on our states are utilizing projections of how much business and revenue that your state will lose over a 12-year period of time when the facts don't even line up at all. It is a lie."
The brothers also pointed out statistics that show that North Carolina has gotten along pretty well in the aftermath of H.B. 2.
Last November, Forbes and Site Selection magazine ranked North Carolina as the No. 2 state for business, while CNBC ranked the state as the No. 5 in the country for business in July. Chief Executive Magazine polled 513 CEOs last May and ranked North Carolina as the No. 3 state in the nation for business.
Additionally, Site Selection ranked North Carolina as the fourth best state when it comes to attracting and expanding business with over 289 new projects in 2016.
In February, Mitch Kokai, a political analyst with the John Locke Foundation, explained that although North Carolina has suffered modest economic consequences, the economic impact of the law only accounts for a "fraction" of a percent of the entire North Carolina gross domestic product.
"What we have in North Carolina is an economy with a gross domestic product on the state level of about $510 billion," he said. "At this point, the widest range of estimates of the potential economic loss from House Bill 2-related closings or businesses deciding they are not going to come here or athletic events that have gone to other places is in the hundreds of millions of dollars. You are talking about a fraction of a percentage point of gross domestic product of the state."
According to reports, North Carolina lawmakers reached a deal Wednesday night to repeal H.B. 2 and replace it with a new law. However, LGBT activists are not happy with the deal and claim that a new law would be "simply another version" of H.B. 2.