Benjamin Watson Cleverly Announces Wife Is Expecting Twins; Family Grows to 7 Kids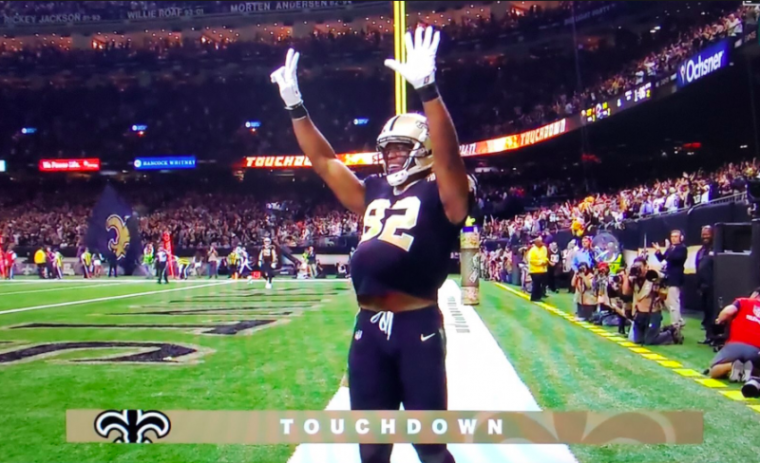 New Orleans Saints tight end Benjamin Watson had an incredible game on Sunday, and decided to seize the moment after scoring a touchdown to announce that his wife is pregnant with twins.
Watson and his team won the game against the Los Angeles Rams by 45-35, and he used the televised moment to share some personal family news. After scoring a touchdown he took advantage of the newly lifted celebration ban at the end zone to announce that his family is growing. 
When in the end zone, the father of five grabbed the football, tucked it under his jersey, and then held up seven fingers. Soon after, fans began sending their congratulatory messages on social media.
"Ben Watson may have just made the greatest pregnancy announcement in history," NBC's Sunday Night Football tweeted.
"I always put the five up for my kids. So we're adding two more," Watson said, according to The New Orleans Advocate. "As I did it, I saw my wife [Kirsten Watson] in the stands and I kinda pointed at her and waved. She was OK with my announcing. Now everybody knows we're about to be the Watson seven."
He said his wife was 13 weeks pregnant with twins and revealed that the news comes as a major blessing to them after they endure a very difficult season.
"We have had a few miscarriages over the past years, so it's been really tough," he confessed. "We tried one more time. ... We wanted to share that. We want people to pray for us. We want to be open about it and we are excited. You never know when you're going to score again."
Both Watson and his wife, Kirsten, are vocal about their pro-life values as a result of their faith. In August, Watson donated state-of-the-art 3D/4D ultrasound machines to pregnancy clinics as a way to encourage mothers to carry their babies to term.
"Seeing life inside the womb not only affirms its beauty and dignity but encourages the mother and father that their child is worth fighting for," Watson explained in an Instagram post after their donation to a clinic in Maryland.
Over the weekend, after sharing his happy news, Watson asked friends on Twitter to keep his family in their prayers.
"Thanks for all the congratulatory messages. We are excited about the new additions! Please keep us in your prayers."