Benjamin Watson, Russell Moore Talk 'Hopelessness, Exhaustion' Among Black and White Christians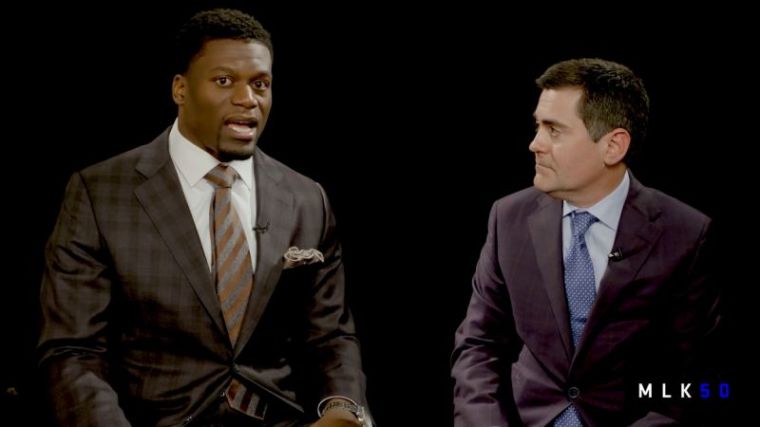 NFL Star Benjamin Watson and ethicist Russell Moore have spoken out about the "hopelessness" and "exhaustion" that black and white Christians sometimes seem to be experiencing in the struggle to improve race relations in America.
Speaking in a video for the Ethics & Religious Liberty Commission of the Southern Baptist Convention, the Baltimore Ravens tight end said America is "at a very pivotal point in our culture," with race being brought to the forefront over the last several years.
"As believers, as Americans, as people who care about our brothers and sisters, it's important to engage with each other from a biblical perspective," Watson said, calling for "honest and intentional conversations on an issue that may be hard to talk about sometimes."
Moore, who is ERLC president, said, "One of the things I've noticed is sometimes when I'm talking to black Christians, and white Christians, anybody, is that sometimes there is a sense of hopelessness or exhaustion," with people asking themselves "is there really any way where we can move forward?"
Watson admitted that even at 37 years of age, he too is "tired" of the strife.
"There are times when I hear or see things on social media, on my television set, or hear conversations among my pears, and I want to say 'You know what, it's not gonna get any better, that's the hand we've been dealt because that's the way our country was founded, and this is what we have to deal with.'"
He said that what keeps him going, however, is when he receives an "encouraging word or letter from someone who has had a breakthrough in that area," or whenever he has an "encouraging conversation with a colleague or a teammate and I see that there is hope," which is worth holding on to.
Ultimately, Watson said that people's hope "lies in the power of God," and that one day "we will be in a place where Jews and gentiles, and the slave and free, and the male and female will get along."
The ERLC video was made in anticipation of MLK50 in Memphis, Tennessee, on April 4, which will mark the 50th anniversary of the assassination of Martin Luther King Jr.
Besides his NFL career, Watson has also written books looking at the racial divide in churches and across the country, such as his 2015 work Under Our Skin: Getting Real About Race and Getting Free From the Fears and Frustrations That Divide Us.
Watson told The Christian Post in an interview in January 2017 that "there needs to be a willingness to, because of our faith, care about the plight of someone else, even if you don't understand, even if you think black people are whining and complaining for no reason."
"Maybe you think that is the case and that may be true in some instances, but because we are the Church, while the Gospel is paramount, the Gospel has legs. The Gospel is concerned about any sort of injustice and about loving and caring and what affects the body," he told CP.
Back in June, Moore said that white supremacy and blood and soil racism are "anti-Christ doctrines."
"What would it say to the world around us if they saw our churches made up of every tribe and tongue and nation and language serving one another, loving one another?" he asked thousands of Southern Baptist leaders and delegates.
"What they would see is a sign of contradiction to the outside watching world."
Watch the ERLC video of Moore and Watson below: