Benjamin Watson Shares Grandmother's Words of Wisdom as He Mourns Her Death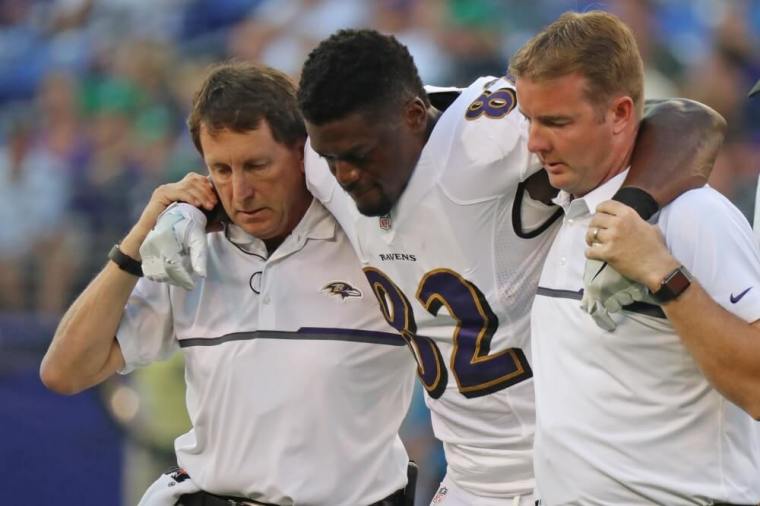 As Benjamin Watson mourns the recent death of his grandmother, he's sharing some of the spiritual lessons the family matriarch instilled in him.
The 35-year-old recovering Baltimore Ravens tight end wrote a heartfelt message to over 350,000 Facebook fans about his grandmother who died on Oct. 29. While reflecting on his love for her, Watson recalled some wise words his grandmother told him concerning his faith.
"'What God has for you is for you.' In other words, Benjamin, YOU fight the good fight, YOU finish the course, YOU keep the faith and YOU trust God to give you what He wants and lead you where He desires you to go," Watson shared. "No one can alter, add or subtract from God's plans for you. Only He is omniscient and omnipotent. Rest in His sovereignty."
Even though his grandmother is no longer with him physically, the NFL star is keeping her words close to his heart.
"Tonight, with grandma gone, I am resting in His sovereignty for so many things in my life," he said. "Though she is now absent, her words will remain with me. Her words will forever ring true."
Although Watson is in mourning, he is taking comfort in the fact that his grandma is in a better place.
"As we mourn her loss tonight I am overwhelmed with a joyful sadness, a comforting pain, and a hopeful despair. Life has not ended for her," he said. "On the contrary, it has only just begun. While she may be absent from the body, She is in the presence of our Lord."
Despite admitting that he has dreaded the day of his grandmother's death, Watson was able to focus on Jesus.
"Because Jesus overcame the grave, I know I will see her again. Right now I can only imagine the smile on her face as she is overcome by His great love," he said. "As she meets the heroes of the faith and takes her place among them. As she worships with the fullness of her being in the heavenly realms Oh what a sight it must be!"
Watson frequently uses his platform to speak about faith and encouraged other athletes to do the same. During the Indiana Fellowship of Christian Athletes Night of Hope event in Fort Wayne, Indiana, last May, the NFL star told those in attendance that they need to be speaking up in the name of Christianity.
"As believers (in God), we have an answer the world does not. One of the biggest divides we have is the difference in experiences," Watson said, according to the Journal Gazette. "We have to address our loyalties. Our loyalty is not to our grandparents, the traditions, our volleyball team, our friends; as believers, our loyalty is to Scripture."