Beth Moore to take a 'time out' from Twitter: 'I don't trust myself'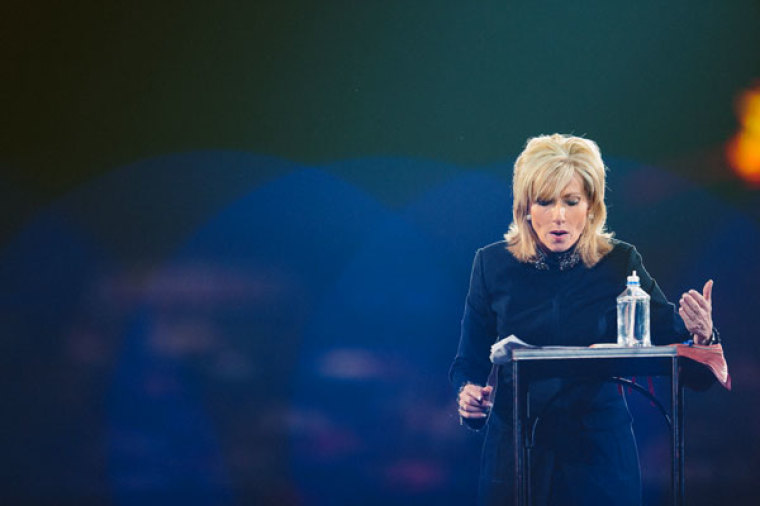 Popular Bible teacher and speaker Beth Moore, who recently garnered headlines for leaving the Southern Baptist Convention, announced that she is taking a break from her widely followed Twitter account.
In a Twitter thread last Friday, Moore stated that she is "putting myself in time out for a bit" from the social media platform, citing two reasons.
"I feel a bit too strongly about some things to be on Twitter right now. I don't trust myself. Gonna punch somebody. I can either get ugly or get off," Moore detailed. 
"And the fact is, I really do want to walk with Jesus in the Spirit and not burn stuff down. Mind you, I don't take back a word I've said. (See? This is where I go awry. The longer I talk.) I just think it's enough for now."
The bestselling author stated that the other reason is for taking a Twitter break is that she is "writing again" and had "just hit that groove writers crave," when they "get really immersed."
"Please know all's well & I'll be back in these tweety bird woods soon," she added. "I was gonna tell you to behave but sometimes behaving's overrated."
Moore has over 980,000 Twitter followers. 
Last month, Moore, the founder of Living Proof Ministries, announced her departure from the SBC after having long been tied to the theologically conservative denomination.
The 63-year-old Moore said the issue was that she did not "identify with some of the things" in the history of the SBC that she believes have not "remained in the past."
"I am still a Baptist, but I can no longer identify with Southern Baptists," Moore said in an interview with Religion News Service.
"I love so many Southern Baptist people, so many Southern Baptist churches, but I don't identify with some of the things in our heritage that haven't remained in the past."
She also terminated her publishing agreement with Lifeway Christian Resources, the publishing arm of the SBC. 
In response, SBC President J.D. Greear stated that he is "grieved" when someone who "believes in the inerrant Scripture, shares our values and desires to cooperate says that they do not feel at home in our convention."
"When I first allowed my name to be nominated for President, I said we did not need to change our doctrine or our mission, we needed to change our culture," Greear tweeted.
"My time as President has shown me that the vast majority of Southern Baptists are ready to walk into the future unified around the Great Commission. Sadly, it's many of our leaders that seem bent on pulling us apart."
Earlier this month, Moore elaborated on her issue with complementarianism, the theological doctrine that men and women have distinct, divinely-ordained roles in family and church matters. The SBC's 2000 Baptist Faith and Message teaches that "a husband is to love his wife as Christ loved the church" and "a wife is to submit herself graciously to the servant leadership of her husband even as the church willingly submits to the headship of Christ."
"When you functionally treat complementarianism —a doctrine of MAN— as if it belongs among the matters of 1st importance, yea, as a litmus test for where one stands on inerrancy & authority of Scripture, you are the ones who have misused Scripture," she tweeted on April 7. 
"I beg your forgiveness where I was complicit. I could not see it for what it was until 2016. I plead your forgiveness for how I just submitted to it and supported it and taught it."