Bethel Music Worship Leaders Declare 'Third Great Awakening' Is Coming to America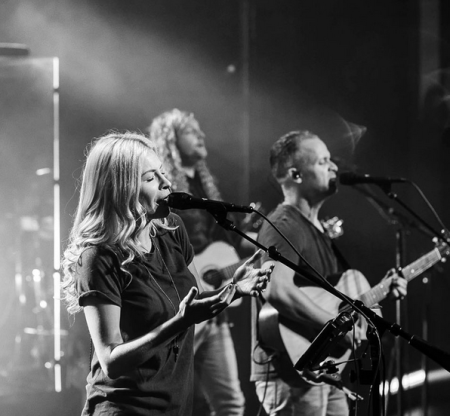 Bethel Music worship leaders say they believe a third great awaking is coming to America.
During their final tour night at the Beacon Theatre in New York City last week, Josh Baldwin, Bethany Wohrle, and Lindy Conant spoke openly about what they sense is spiritually coming to the United States.
"I think God's going to use healing in America to lead so many people to Jesus," Conant, the newest member of Bethel, told Fox News.

The popular contemporary Christian music group recently wrapped up their second annual "Heaven Come Conference" in Dallas, Texas, which brought out nearly 6,000 people in what the band described as a "life-changing" event. 
Bethel Music also performed in Boston, Massachusetts, where hundreds gave their lives to Jesus.
"People were so hungry," Baldwin added. "It does feel like people are re-upping their commitment to the Lord. It's been powerful every night ... we would stop [in worship] and they would lead."
The world renowned ministry is used to seeing a hunger for God when they minister abroad, but said they're starting to see that same passion for God's presence in American audiences. 
"It felt like we were tapping into an old well," Conant said. "We need another Great Awakening, and it came out of this region for the Second Great Awakening."
"It's like Jesus needs to be re-introduced to a whole generation, like He's not mad at you. He's not up there waiting to strike you with a lightning bolt. He is a God of love. For God so loved the world that He sent His son, and now Jesus wants to send us with that same love to reach a generation ... that's where I go we're all missionaries. ... Jesus said as the Father sent me so I am sending you. OK, well, that's pretty gangster if that's the truth," she continued.
The voice behind the new single "Stand in Your Love," Baldwin agreed with his bandmate.
"It does feel like we're on edge, like something's about to break and there's about to be another big awakening," Baldwin maintained. "I feel like the younger generation — millennials — sometimes can get a bad rap, but the thing I love about it is that they are all-in on whatever they're going for ... and the ones that are going after the Lord they're so passionate about it that I feel like that's what changes our nation — their passion and their hunger."
World-renowned worship leader William McDowell, who now pastors Deeper Fellowship Church in Orlando, Florida, echoed Bethel Music's statement about another great awakening happening in America during a recent interview with The Christian Post.
According to McDowell and his team, Deeper Fellowship has been experiencing a "tremendous move of God" since 2016. They've documented over 200 miracles in which they've witnessed physical healings in addition to deliverance, supernatural breakthrough, and salvation.
"I know there are other ministries that experience healings, I know that there are other ministries that experience revival culture and things of that nature — so it's not that we don't feel like it's not happening anywhere," McDowell told CP.
"I feel like there has to be a group of people that are willing to amplify what the Lord is doing in the Earth. And as we could utilize our platform to amplify what the Lord is doing, we had to," he added.