Bethel Worship Leader and Wife Give Miracle Update on Their Kids' Battle With E. Coli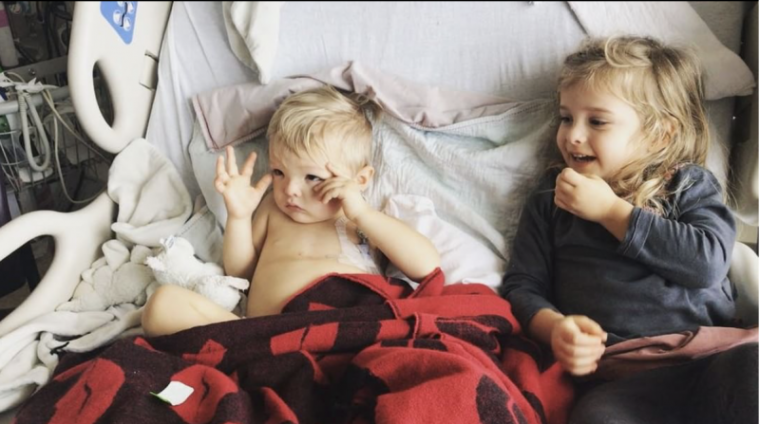 The leader of the Bethel worship ministry, Joel Taylor, and his wife Janie have shared the miracles they've been seeing in their two small children, who have been battling a dangerous E. coli infection.
The Taylor family first announced their stressful ordeal over the holidays. Joel and Janie Taylor reported that their 2-year-old son Jaxon was fighting a devastating E. coli infection that had shut down his kidneys and caused multiple life-threatening complications. Just a few days later, the parents shared that their 4-year-old daughter had contracted the same virus and although her diagnosis was not as severe, they pleaded for prayer.
After weeks of fighting, the family is seeing progress.
"In the last 24 hours Jaxon peed three times, ate all of his meals (and kept it down!), took several steps, and slept through the entire night," Taylor wrote in an Instagram post this week. "Miracles don't always look exactly like you want them to. God's timing often doesn't make sense until you look back to see that mountains were climbed and canyons were crossed on no strength of your own. And in that place, when God becomes your only option, you learn that it's a gift that will mark you forever. Every moment with this boy is a treasure I'll never take for granted again. I've been laying by his side this afternoon just staring at him, full of joy that I get to watch him grow up and fulfill his destiny."
On Monday, Janie said her son's progress has been very encouraging to watch.
"He is playing, he is eating, yesterday his feeding tube and fem line came out...every moment feels like a miracle," she wrote on Instagram.
The couple had asked that people pray for Jaxon to urinate and their daughter Addie's symptoms to slow down so that her E. coli would not turn into HUS (Hemolytic-uremic syndrome) as it did for Jaxon. HUS is a type of anemia caused by the destruction of red blood cells and leads to acute kidney failure.
Thousands around the world began to pray for the children as reports of their condition made headlines, and the parents are now saying the prayers are working.
"Thanks to your prayers, Addie's diarrhea has slowed down significantly, which is the opposite of what the drs said would happen. Your prayers are working! Please keep praying for complete healing and no complications," Janie shared.
The concerned mother said that doctors still say Jaxon's kidney failure remains "severe" but she is keeping the faith because she has seen God come through in the darkest times.
"Jaxon's name means the Lord has been gracious and has shown favor. Every time this boy says a word it is a miracle of the goodness of God. The night his cognitive function left him was the scariest night of my life. He was unable to speak, respond to stimulus or recognize me. I would say it was the darkest night of the soul but in actuality, I felt God's light and goodness even there in the midst of it. I felt carried by your prayers in a way I will never be able to express," she explained.
"Now he is saying full sentences again; my boy has come back to me. Thank you all for being a part of this miracle. Please continue to pray for 100% restoration and not an ounce of long term effect. I stand in absolute certainty that it will be and is."
Joel Taylor is the CEO of Bethel Music, a worship music ministry that has exploded in popularity in recent years. He and his team have created songs that churches are now singing worldwide.
For more information on how to help the Taylors, visit the GoFundMe page that was created for the family.