Biden administration backtracks after expressing openness to boycotting Beijing Olympics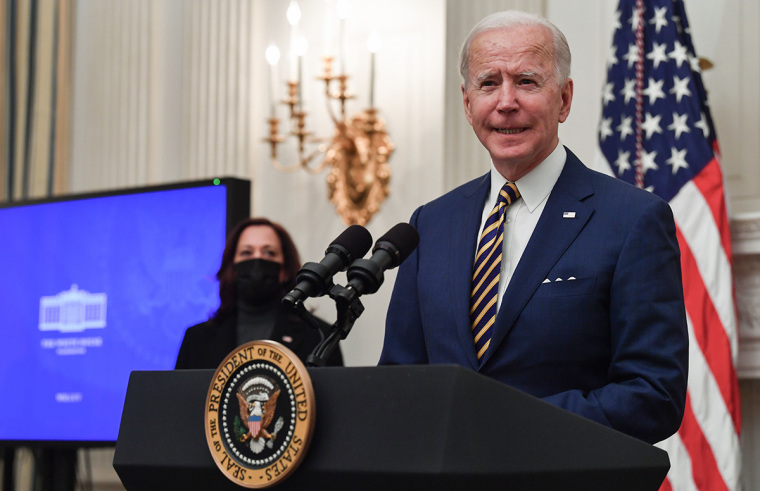 After initially expressing openness to the idea of boycotting the Beijing Olympics scheduled to take place in February 2022, the Biden administration is stressing that the State Department has not had any conversations with the United States' allies about a collective boycott. 
During a press briefing Tuesday, State Department Spokesman Ned Price was asked to "detail how the State Department has been or will be involved in the administration's decision" on whether to boycott the Beijing Olympics. "Well, part of our review of those Olympics and our thinking will involve close consultations with partners and allies around the world," he replied.
"We have consistently said, when it comes to our concerns with the government in Beijing, including Beijing's egregious human rights violations, its conduct of genocide in the case of Xinjiang, that what the United States does is meaningful, what the United States does will have impact, but everything that we do … that brings along our allies and partners, will have all the more influence with Beijing," Price added.
"And so that is why the Department of State, as part of our thinking on the Beijing Olympics, is engaging with partners, with allies to … coordinate closely on decisions and approaches to the government in Beijing," he asserted. "We are coordinating on all these issues of concern, and, of course, the Beijing Olympics is an area that we will continue to discuss."
When asked for a specific time when the discussions will conclude, Price explained that "we're talking about 2022 and we're still in April of 2021," adding, "I wouldn't want to put a timeframe on it, but these discussions are underway."
At the end of the press briefing, Price was asked again if the U.S. was "in consultations with allies discussing whether to consider or plan some sort of joint boycott." He responded to the inquiry by describing a joint boycott as "something that we certainly wish to discuss" and "an issue that is on the agenda both now and going forward." 
In an email to CNBC later on Tuesday, a senior State Department official said that "Our position on the 2022 Olympics has not changed. We have not discussed and are not discussing any joint boycott with allies and partners." This seemed to contradict Price's claim that the U.S. would "continue to discuss" the Beijing Olympics with allies, a statement that implied that such conversations were already underway.
The push to boycott the Beijing Olympics comes as the Chinese government continues to face condemnation for its inhumane treatment of the Uyghurs, a minority group living in the western Chinese province of Xinjiang. A group of Uyghur protesters affiliated with the East Turkistan National Awakening Movement believe that Xinjiang is actually East Turkistan and that China has been illegally occupying it since 1949.
In an interview with The Christian Post, Salih Hudayar, prime minister of the Washington, D.C.-based East Turkistan Government in Exile, contended that the Biden administration's backtracking on whether to boycott the Beijing Olympics was the result of "pressure from the Chinese government." He also implied that the U.S. government fears "economic and political costs" as a result of a potential boycott, specifically that "China may end up boycotting American goods" in retaliation. 
Hudayar told CP that regardless of any potential economic or political consequences, "We want the U.S. government and the Biden administration to lead the international community … by showing a moral example and boycott the Beijing 2022 Olympics and urge the International Olympic Committee to relocate to ... a country that's not engaging in genocide."  
"It's morally and ethically wrong for ... the U.S. to ... send its Olympic team to participate in an Olympics with a country that's engaged in genocide and it sends the wrong signal. It's like rewarding for China ... for their behavior. It's rewarding China. It's giving them prestige and that is something that should not ... be happening."
Sen. Rick Scott, R-Fla., and six other Republican senators, have submitted a resolution calling on the International Olympic Committee to "rebid the 2022 Winter Olympic Games to be hosted by a country that recognizes and respects human rights." Rep. Michael Waltz, R-Fla., has introduced a similar resolution in the U.S. House of Representatives. 
While Sen. Ted Cruz, R-Texas, has also expressed support for the idea of relocating the 2022 Winter Olympic Games, he wrote an op-ed for Fox News, arguing that if the Olympics take place in China as scheduled, it would be a mistake for the U.S. to boycott them. According to Cruz, "Our athletes should go to Beijing next year proudly, bring home medal after medal, and show the world what it means to compete on behalf of a free society." 
"We shouldn't give China an easy way to run up its medal count by preventing Americans from going to the Olympics," he added. Cruz also contended that pulling out of the Beijing Olympics would be unfair to the athletes who have been training hard for the games. 
Hudayar strongly pushed back on the idea that the U.S. should send its Olympic athletes to Beijing: "If we are going to send our ... athletes to compete in an Olympics in Beijing, where ... the Chinese government is engaging in genocide against an entire population, then we will have … only endorsed that genocide and given China the prestige because no ... government that's engaging in genocide should be given any form of prestige or acknowledgment by any power ... especially by a country that claims it's supposed to be the leader of the human rights."
In spite of the difficult politics surrounding a potential boycott of the 2022 Winter Olympics in Beijing, Hudayar said he felt cautiously optimistic: "I'm actually pretty confident that the ... U.S. will, I'm confident that ... if the right ... pressure is made, that we can get the IOC to relocate it to a different country."