Biden calls border a 'crisis' after state officials raise concerns over national security, trafficking
VP Harris skips border, plans to visit Guatemala to address 'root cause' of mass immigration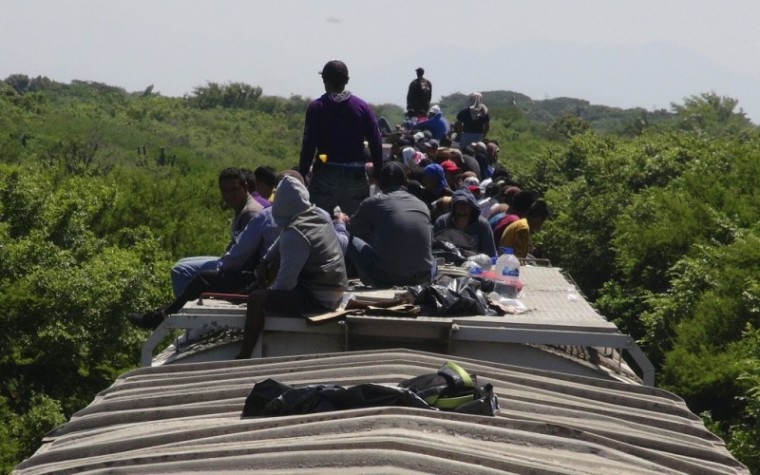 President Joe Biden has for the first time described the surge of migrants at the U.S.-Mexico border as a "crisis," days after nearly 300 sheriffs in 39 states sent him a letter urging him to change his policies due to a rise in sex trafficking and concerns about national security threats.
On Saturday, Biden was asked by a reporter in Delaware about his reversal on the refugee admissions cap after his administration released a memo to keep in place the Trump-era 15,000 cap on refugees who can be allowed into the United States.
"We're going to increase the number. The problem was that the refugee part was working on the crisis that ended up on the border with young people," Biden said in response. "We couldn't do two things at once. But now we are going to increase the number."
Earlier this month, the sheriffs sent a letter spearheaded by Sheriff Thomas M. Hodgson of Bristol County, Mass., accusing the president of exposing the nation to cartel trafficking and potential terror threats by enabling mass illegal immigration and overwhelming Border Patrol agents.
"President Biden is knowingly and intentionally undermining America's Sheriffs and our collaborative efforts with our local, state and federal public safety partners to enforce the rule of law," Hodgson said, according to the Sun Chronicle. "He and the policies of his administration are placing our citizens, neighborhoods and our nation in public safety and public health danger."
U.S. Customs and Border Protection agents apprehended 172,331 migrants along the border in March, which is a 71% increase from February. That number included 18,890 teenagers and unaccompanied children, which is a 100% increase since February and has led to massive overcrowding at border facilities.
Brandon Judd, president of the National Border Patrol Council, described it as "the biggest surge that we've ever seen in the history of the Border Patrol," during a roundtable with Republican members of Congress, Texas landowners, and law enforcement on April 7, as reported by The Epoch Times.
In the letter to Biden, Hodgson and over 270 sheriffs noted how both the Trump and Obama administrations recognized the threat posed by illegal immigration and said it's critical that he respond.
"You must act now before our nation's public safety resources are overwhelmed with the criminal side effects of unchecked illegal immigration, including transnational gangs, guns, dangerous drugs and human trafficking," the sheriffs added in the letter. "America's Sheriffs urge you, Mr. President, to reverse course and help us protect our communities by securing the southern border."
Prominent evangelical leader and president of Samaritan's Purse, Franklin Graham, posted a portion of the letter on Facebook last Monday, sharing the sheriffs' concerns.
"I appreciate the boldness of this group of law enforcement leaders—they are right," Graham wrote. "Let's pray together that President Biden will heed this warning, and that God would give him wisdom and strength to do the right thing and find solutions to this crisis quickly. We need a safe process for legal immigration that works."
Hodgson appeared on "Fox and Friends" after sending the letter to discuss the impact of the border crisis on the rest of the nation in greater detail.
"Sheriffs across this country are mobilizing. …," Hodgson said. "Open borders don't work and they are exposing our citizens to more transnational gangs, violence in our communities, more drugs pouring into our communities, sex and human trafficking out of control and national security threats."
This comes after several Republican states have filed lawsuits against the Biden administration's border and immigration policies.
Texas Attorney General Ken Paxton announced a lawsuit Tuesday, which asked a federal judge to order the Biden administration restart the "Remain in Mexico" policy, The Washington Times reported.
Arizona Attorney General Mark Brnovich also filed a lawsuit arguing that the relaxed immigration policies caused the surge and an environmental disaster, which violated the National Environmental Policy Act.  
Former Trump officials have also called on the Biden administration to respond to the crisis.  
"I'd say the vice president (Kamala Harris) … needs to go to the border, needs to understand the conditions that are being experienced, needs to understand and talk to the men and women of the Border Patrol … because it's all interrelated," former acting DHS Secretary Chad Wolf said at a Heritage Foundation news briefing, Fox News reported.
Biden appointed Vice President Kamala Harris to lead the charge in responding to the border crisis through diplomatic efforts. Since being tasked with this on March 24, Harris has not visited the southern border, which has sparked heavy criticism.
Harris said, "plans are in the works" to travel to Guatemala and Mexico soon to address the "root causes" of immigration, she said at a Northern Triangle security roundtable on Wednesday, Fox News reported.
Until Saturday, the Biden administration had refused to call the historic surge in immigration a "crisis," instead calling it a "challenge."
Last week, Biden tapped Chris Magnus, police chief of Tucson, Arizona, and vocal critic of Trump's immigration policy, to head Customs and Border Protection, The New York Times reported.
Despite Biden signing an executive order to halt the Trump administration's border wall construction, Department of Homeland Security Secretary Alejandro Mayorkas told department employees that they might begin rebuilding "gaps in the wall," The Washington Times added.