Biden official touts administration's religious freedom record at DC summit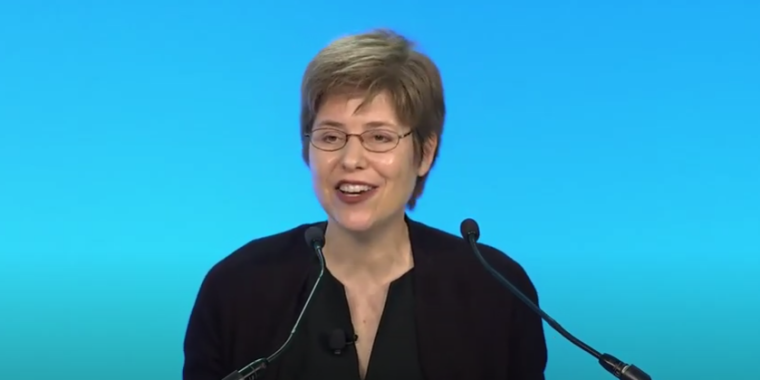 A Biden White House official addressed this week's International Religious Freedom Summit and touted the administration's record on advancing religious freedom, praising the bipartisan support for promoting the fundamental human right.
Melissa Rogers, the director of the White House Office of Faith-Based and Neighborhood Partnerships, spoke before an audience of religious freedom advocates Wednesday, making her one of several Biden administration officials to speak at the event described as the first civil society-led religious freedom ministerial. Secretary of State Antony Blinken and USAID administrator Samantha Power addressed the IRF Summit via video messages. 
In her speech, Rogers reiterated President Joe Biden's belief that "ensuring freedom of religion is as important now as it has ever been." She said that "President Biden, a person of deep faith, certainly understands the importance of religious belief and practices in the lives of so many."
Rogers shared a quote from the president asserting that, "the work of protecting religious freedom for people of all faiths and none is never finished. We must be vigilant against the rising tide of targeted violence and hate at home and abroad and work to ensure that no one feels afraid to attend a religious service, school, community center or walk down the street wearing the symbols of their faith." 
Rogers highlighted "a few steps the Biden-Harris administration is taking to protect and advance religious freedom for all." She specifically praised the administration for upholding the United States' "moral obligation to protect refugees," noting that as "the number of refugees and other displaced persons has reached an alarming [rate] and historic high" of more than 82 million people worldwide, the president has "raised our annual refugee admissions cap to 62,500 for this fiscal year."
Additionally, she announced his plans to double the refugee ceiling to 125,000 next year.
"The U.S. is committed to upholding its long tradition as a leader in refugee resettlement that provides a beacon of hope for persecuted people around the globe," Rogers added. She also remarked that "on his first day in office, President Biden revoked orders and proclamations prohibiting certain individuals from entering the United States first from primarily Muslim countries and later from marginally African countries."
Rogers slammed the actions taken by the Trump administration to restrict immigration from terror-prone countries as a "stain on our national conscience and inconsistent with our long history of welcoming people of all faiths and no faith at all." She echoed Biden's analysis characterizing the "discriminatory bans on entry into the United States" as an example of the country turning its back on its values.
Rogers also spotlighted Blinken's affirmation that "the People's Republic of China is committing genocide and crimes against humanity against Uyghurs and other ethnic and religious minorities in Xinjiang." She recalled how "In March, Canada, the European Union, the U.K., and the U.S. took coordinated action to impose sanctions on PRC officials for these human rights abuses," she recalled. 
"At the recent G7 Summit, the world's leading democracies stood united for religious freedom and against forced labor, including in Xinjiang and committed to ensuring that global supply chains are free from the use of such labor. Our administration has translated these commitments into a series of actions imposing import and export restrictions on PRC companies for their use of forced labor from Xinjiang." 
The Biden administration's characterization of China's treatment of the Uyghurs as genocide received praise from David Curry, the director of the religious freedom advocacy organization Open Doors USA, who reacted favorably to the "courageous" move in an interview with The Christian Post. Curry expressed gratitude that the Executive Branch was making the Uyghur genocide "a subject of discussion with China," adding, "I don't think that's easy" and "it's a good step." 
Curry told CP that the Trump administration deserved an "A+ on religious liberty and how they dealt with that," and maintained that while Blinken is "setting a good tone" and "saying the right things," "the Biden administration has a lot of work to do … to catch up to them on this subject." He stressed that overall, he was "not discouraged about the Biden administration's approach thus far." 
In her address at the IRF Summit, Rogers also profiled the U.S. government's "strong stance in support of democracy and human rights in Burma."
According to Rogers, "As the Burmese military accelerated violence against civilians in the wake of the February coup, the administration provided emergency support for various members of ethnic and religious minority groups at a time when many found themselves" facing "military prosecutors for actions as simple as praying for peace."
Rogers also looked forward to a Ministerial to Advance Religious Freedom in her speech, promoting "what we hope will be the first post-pandemic in-person ministerial to be hosted by the United Kingdom in London next summer."
She vowed that in the coming weeks, the president would nominate an ambassador-at-large for International Religious Freedom, which has remained vacant since Sam Brownback, who co-chaired the IRF Summit, stepped down from that position after Biden took office. 
While Rogers spent most of her speech touting the Biden administration's actions on the issue of religious freedom, she also spoke of "the role of civil society in advancing international religious freedom and human rights more broadly," characterizing the work as "vital" in the effort to uphold the values spelled out in the Universal Declaration of Human Rights. She concluded her speech by rejoicing that "there is so much common ground on international religious freedom issues" among the two political parties. 
The "common ground on international religious freedom issues" was on full display this week in the U.S. Senate as the chamber unanimously passed a bill banning the sale of all products made using forced Uyghur labor in the United States. The Uyghur Forced Labor Prevention Act still awaits a vote in the House of Representatives, which must approve the bill before it can head to the president's desk for a signature.