Bill Nye 'Considering' Tour of Ken Ham's Ark Encounter Noah's Ark Themed Replica (Interview)
Bill Nye "The Science Guy" is reportedly considering Ken Ham's offer to tour the Ark Encounter, the life-size replica of Noah's Ark that will open to the public in Williamstown, Kentucky, on Thursday.
Ham told The Christian Post in an interview that all of the exhibits at the Ark Encounter have been installed, with final touches being put in ahead of the official opening.
"Everything will be ready on the opening July 7th, which includes the Ark, the three decks of world-class exhibits, the 1,500-seat cafe, the zip line course, and also the zoo — Ararat Ridge Zoo and petting zoo," Ham told CP.
The Answers in Genesis CEO and president publicly invited Nye in May to visit the Ark, adding that he wants the past debate foes to be friends, not adversaries.
"We have different worldviews, and it's interesting, in the Bible it says 'faithful are the wounds of a friend.' And so I'm gonna challenge Bill Nye's evolutionary worldview, but as friends we can do that — he can challenge me, and I can challenge him. But we can still be friends, even though we have totally different worldviews," Ham said at the time.
He also confirmed with CP that Nye is considering the offer.
"Yes, we have had a response back from him. I believe he is considering coming out here," Ham revealed. "We've had a positive response in that regard, so we'll just have to see what happens."
Back in January, AiG won a major religious freedom court victory against the state of Kentucky, after a federal judge ruled that officials violated the Young Earth Creationist group's First Amendment rights by denying it participation in a sales tax incentive worth millions.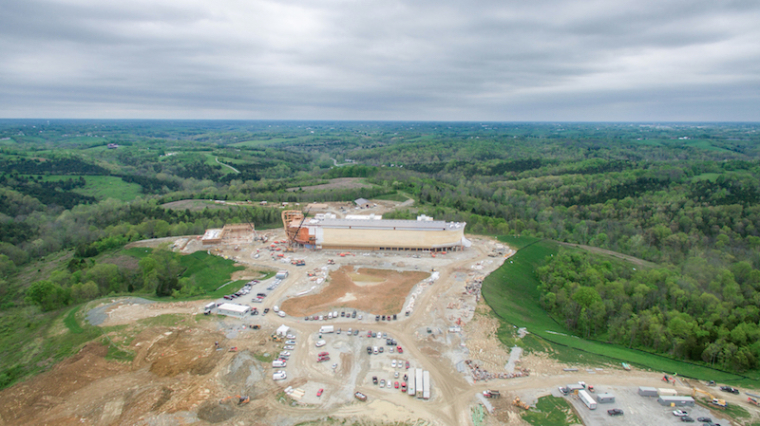 Ham noted that there are several other tourist facilities in Kentucky that participate in the tax incentive program, but have not been legally challenged the way the Ark Encounter has, and suggested that the Ark was targeted because of its Christian message.
"We are building a facility that really is of the order of Disney in quality, in size. In fact, I think it's beyond Disney, I think it's beyond Hollywood," he said.
"There's this idea that people have that Christians don't have a right to get their message out in the culture, that Christians don't have the right to participate in programs. But the judge ruled on that," Ham continued.
"It comes down to prejudice against the message — that's really what it's all about."
The one thing Ham said surprised him throughout the construction project, which involved the help of hundreds of workers, was how large the Ark turned out to be, spanning 510 feet long, 85 feet wide, and 51 feet high.
"To see the real structure, makes you realize just how big it really is. That's the surprise for me, it's more massive than what you think. And that's what everyone has said that has come down there, even people who don't share our biblical message. Non-Christians that have come down there, they have said that this is 'bigger than they have ever imagined,'" he said.
The Ark Encounter website provides a number of sneak peaks showing the various exhibits across the three decks, but when asked which one in particular he feels especially excited for, Ham talked about Noah's living quarters.
"The reason is because it's really about Noah himself, and they all contribute to this, but to challenge people's thinking that Noah and his family were not unintelligent people. Many people have an evolutionary view of history, where they think ancient people were primitive," the AiG president explained.
He said that before the Flood, people lived for hundreds of years and accumulated a lot of technology, which would have allowed Noah to make use of a number of ingenious ways of doing things by the time the Ark construction began.
Ham said: "When you walk into the living quarters you just see Noah and his family and you see the way they have been done with the curtains and the pillows and the kitchen and the food, and so it goes on. It makes people realize something different about Noah and his family. It's getting them to think of a biblical worldview instead of a secular worldview, and it's challenging a lot of preconceived notions about Noah and his family."
As for the message he hopes people who visit the Ark Encounter will be left with, he said: "For the skeptics, I want them to go away and say 'you know, maybe this really happened. Maybe there really was a man Noah and the Ark, and maybe I need to look into that a bit more, look into the Bible and see."
As for Christians, Ham said he is praying they go away "emboldened even more, and that the Bible will be even more real to them, and the message of Christianity will be even more real to them."