Billboard Music's Icon Award recipient Mariah Carey declares: 'All things are possible with God'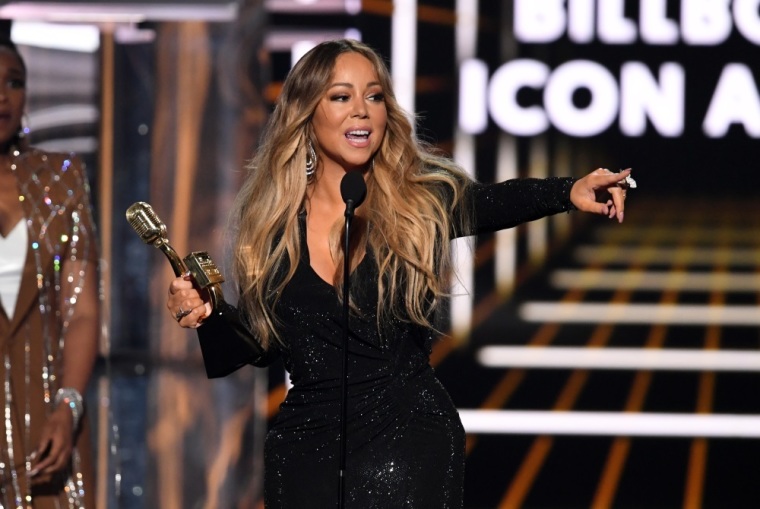 Pop-superstar Mariah Carey, known for her countless number one hits and elaborate ensembles, was honored with the Billboard Icon Award Wednesday night.
"Icon? I really don't think of myself in that way. I started making music out of a necessity to survive and to express myself. I just wanted to create something so I could feel worthy of existing and if I've learned anything at all in this life, it's that truly all things are possible with God," Carey declared during her acceptance speech at the Billboard Music Awards show.   
"I guess I've always felt like an outsider, someone who doesn't quite belong anywhere," the record-breaking artist continued. "I still feel like that lost interracial child who had a lot of nerve to believe that I could succeed at anything at all in this world. But I did believe because I had to, truth is, I've dedicated my life to my music, my saving grace, and to my fans … they've lifted me out of the depth of hell and brought me back with their devotion and love."
She went on to honor everyone who never gave up on themselves and "keeps on believing."
Carey occasionally features a gospel number on her extensive catalog of music. On her recent album "Me. I Am Mariah...The Elusive Chanteuse," the singer showcases "Heavenly (No Ways Tired / Can't Give Up Now)," a passionate gospel number encouraging those listening to not give up. Carey can also be heard singing the Bible verse, "The Lord is close to the brokenhearted and saves those who are crushed in spirit," found in Psalm 34:18.
The New York native has credited her faith with helping her recover from a breakdown during a difficult time in 2002. It has been widely reported that after losing her record deal with Virgin Records, she was picked up by Rev. Clarence Keaton who helped her rebuild her life.
According to an article in American magazine Cosmo Girl, Carey said: "I do believe that I have been born again in a lot of ways. I think what I've changed are my priorities and my relationships with God."
Her ex-husband, Nick Cannon revealed in 2016 that along with making him wait until they were married before they had sex, Carey is "deep into the Bible."