Billy Bush: 20 Women Accusing Donald Trump of Sexual Misconduct Can't All Be Lying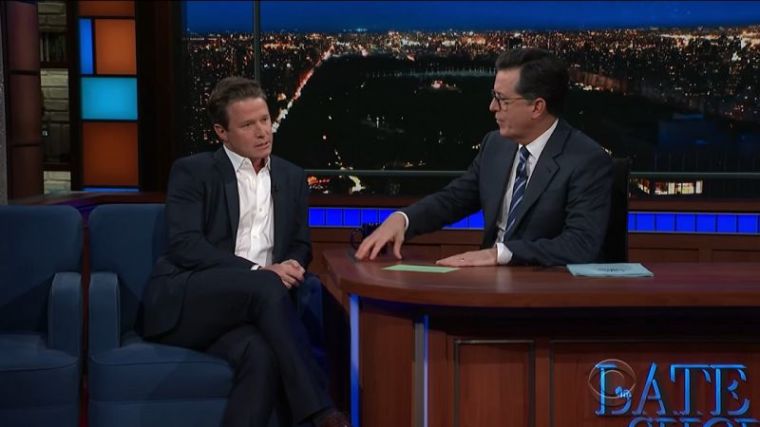 Billy Bush, the former "Access Hollywood" host in the infamous 2005 recording of crass sexual talk with Donald Trump, has said that more than 20 women accusing the president of various forms of sexual misconduct cannot all be lying.
"Then you got 20 women at the time — I don't know what the exact number is because there is more — but 20 women who used their names. We've got powerful people being held accountable now and sometimes there are anonymous sources," Bush said in an interview Monday on the "The Late Show with Stephen Colbert" on CBS.
"All of these women came out with their names and told their detailed accounts. So when he said this ... it infuriated me on the personal front and then I ended up Googling and I read an article with all of these women's accounts — when that article came out it was 13 days after I was fired so I was in my own personal shock — fight or flight — and so I never really read it all the way," he added.
Bush insisted that "20 women don't get together and say, 'Hey you know what would be really fun? Let's take down a powerful guy together ... haha.' No they don't ... and I say you're reopening wounds on them too."
"Enough's enough ... stop playing around with people's lives," he said, referring to Trump's latest alleged private suggestion that it was not him on the 2005 tape. The White House denied that Trump privately said that. 
Bush made similar remarks in a Sunday op-ed for The New York Times. 
Regarding the women who accused Trump of sexual misconduct, he wrote, "I will never know the fear you felt or the frustration of being summarily dismissed and called a liar, but I do know a lot about the anguish of being inexorably linked to Donald Trump. You have my respect and admiration. You are culture warriors at the forefront of necessary change."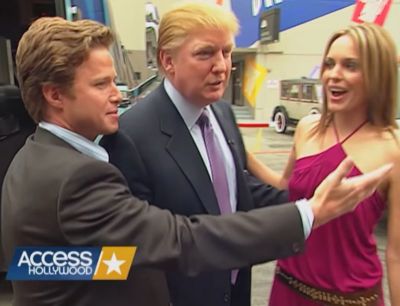 Trump's voice is heard on the Access Hollywood tape saying he tried unsucessfully to seduce a married woman: "I moved on her like a b***h, but I couldn't get there."
He also claimed that women allowed him to touch their privates because he was famous. "And when you're a star, they let you do it. You can do anything. Grab 'em by the [p-word]."
Although Trump apologized last year for such comments, he has recently been investigating whether that really was his voice on the tape, with The New York Times reporting that he has been suggesting it was not actually his voice.
Bush called out the billionaire businessman on Monday, however, and said that he was "infuriated" when he learned that Trump is questioning the facts.
"Like I said ... you can't say that ... that is your voice ... I was there ... you were there ... that's your voice on the tape," the former host declared.
The Independent recently published a long list of women who have accused Trump of various forms of sexual assault or harassment throughout his career.
The White House and Press Secretary Sarah Huckabee Sanders have insisted that all those making accusations against Trump are lying.
Back in October 2016 Trump called himself a "victim" in the wake of a flood of women who came forward with such revelations.
"As you have seen, I am a victim of one of the great political smear campaigns in the history of our country," Trump said at the time at a rally in Charlotte, North Carolina.
"They are coming after me to try and destroy what is considered by even them the greatest movement in the history of our country."
Bush admitted to host Stephen Colbert that he feels shame for his part in laughing along to the vulgar comments in the "Access Hollywood" tape. He called out the "irony" of being fired from his job over the incident, while Trump went on become president of the United States.
When it comes to the national conversation of victims reporting sexual abuse and harassment, he said, "Women must be believed."
"We kind of have to find our way to have the dialogue. I'm worried that the dialogue isn't going to be around because we move onto the next thing," he added.
Back in May, Bush revealed that he had to face up to his three own daughters over the lewd conversation following his firing from NBC.
"My [then] 15-year-old, Mary, called me from boarding school, and she was in tears: 'Dad, Dad, Dad,' and I said, 'Everything is going to be fine, Mary. Everything's going to be OK.' It's just instinctively what you say to your daughter. And she said, 'No, why were you laughing at the things that he was saying on that bus, Dad? They weren't funny,'" the father described.
"It hit really hard, and I stopped for a second, and I said, 'I have no answer for that that's any good. I am really sorry. That was dad in a bad moment a long time ago. You know me. I am really sorry that you had to hear and see that. I love you," he said.
Watch Bush's interview on "The Late Show With Stephen Colbert" below: