Billy Graham 'Thankful' for Christian's Friendship With Atheist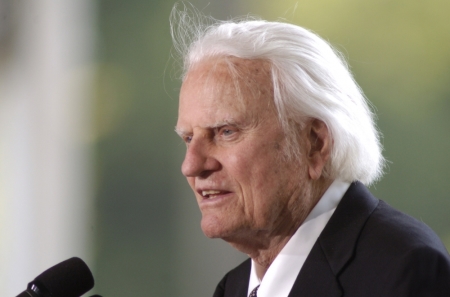 Billy Graham recently told a Christian eager to bring his atheist friend to faith that he was "thankful" for their friendship and that he should continue to pray for and love his non-believing friend, no matter how much he rejected God.
In a Q&A published in the Kansas City Star on Tuesday, the 96-year-old evangelist helped ease the frustrations of a Christian reader, by the name of A.F., over the fact that his atheist friend still does not believe in God — even after surviving a near fatal car accident.
A.F. shared the details of his dilemma with the publication.
"Recently an atheist friend of mine was in a serious car accident, but escaped with only minor injuries. I'd hoped it would make him stop and think about God, but instead he only laughs and congratulates himself on his good luck. Why won't he admit that it was God who spared his life?"
Graham responded with words of encouragement.
"I'm thankful for your friendship with this individual; some Christians, I'm afraid, don't want anything to do with people who are different from them. But God loves them, and so should we!" said Graham.
"Yes, it would make sense for your friend to stop and think about his escape from harm. And you're right: God is the one who spared his life — and I believe he did this so your friend would have another opportunity to turn to Christ and discover the hope and peace He alone can give," added Graham.
The pastor explained that the most important thing he can do for his atheist friend is to pray, and that "logic alone won't change him." He also told him to ask God to help him be an example to the friend and show how his life has been transformed by Jesus Christ.
"Right now he wants to run his own life, but that is a dead-end road. Ask God to use you to show him there is another way, the way is Christ," concluded Graham.
Such Q&A's between Graham and readers have been published in the Kansas City Star before.
In August, Graham discussed the deity of Jesus Christ with a reader who wanted to know the true meaning of Christ being divine.
"On one hand, the Bible makes it clear that Jesus was fully human. He was born a baby, grew up as a child and worked much of his adult life as a carpenter," said Graham. "But the Bible also tells us that Jesus was fully God."
He described Christ's deity as a profound mystery and stressed the importance of Him being fully man and fully God, saying, "Only a divine savior could save us from our sins."
Graham turns 97 next month. He's made very few public appearances due to physical complications related to Parkinson's disease.
However, his son, Franklin, president of the Billy Graham Evangelistic Association, told Fox News anchor Greta Van Susteren last month that his father's health is the best it has been in awhile, during an interview about the senior Graham's new book, Where I am: Heaven, Eternity and Our Life Beyond.
"I think he's probably doing better now than he has in months. He's just got energy," Graham said. " … This Sunday I walked in and I said, 'Daddy, this is Franklin,' and he said, 'Oh son, where have you been? It's good to see you.' He'll want to talk about different things, so he's doing pretty good."