Billy Graham's Granddaughter Urges Evangelicals to Call Out Trump for 'Disgusting Behavior'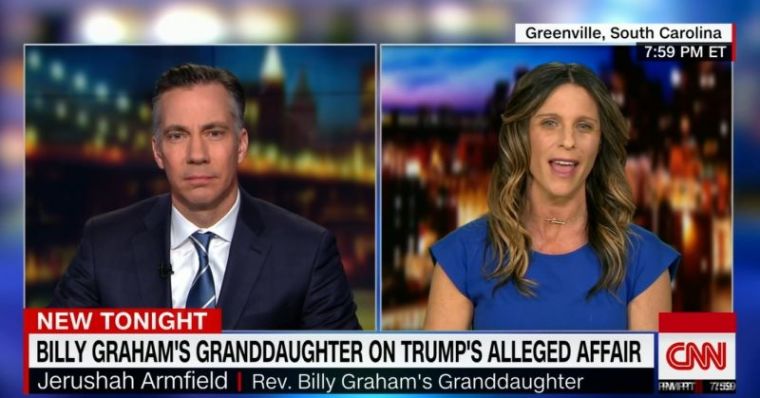 Jerushah Armfield, one of the granddaughters of renowned evangelist Billy Graham, has argued that President Donald Trump has failed to repent and apologize for his "dehumanizing" remarks on Haiti and other poverty-stricken countries.
"In order to forgive somebody, that individual needs to repent and apologize. And I don't think America has seen that from our president in any scenario," Armfield said on CNN's "Erin Burnett OutFront" on Friday evening.
The author and pastor's wife in South Carolina took issue with the context around Trump recently describing certain nations as "s***hole" countries, though the president has denied using that specific word.
"I think a lot of times people seem to be focusing on the language that he used, which really wasn't the issue," Armfield continued.
"I think it was the context of what he said, around the language that he used. I think it was the disheartening, dehumanizing comments that were said around the word."
Trump allegedly made the remark during an Oval Office discussion on immigration earlier this month, when sources claim he said: "Why are we having all these people from s***hole countries come here?" in reference to Haiti, El Salvador and African nations.
Trump is also said to have asked for more immigrants from countries like Norway instead.
While a number of members of Trump's evangelical advisory council condemned the reported language used, others, such as the Rev. Franklin Graham, who is Armfield's uncle, argued that the president has been "beaten up for saying something that he says he didn't say."
Graham clarified in a Facebook post that he does not know what was actually said in the meeting, and insisted that he does not "condone vulgarity."
In a later interview with CNN regarding several of Trump's alleged moral failings, Graham said that "all of us are sinners" and positioned that Trump is not being hailed as "the pastor of this country."
When asked about the Haiti comments, he said "there's a lot of presidents that have had rough language," and pointed out that Trump comes from a business rather than a political background.
Armfield told CNN that she understands evangelicals supporting Trump because of his policies, but argued that should not stop them from speaking out when needed:
"I'd love to see a Christian leader come out and say that they support Trump for his policies, but that his behavior disgusts them, and he needs to clean up his act."
She added that many evangelicals who support his policies "also feel like they have to stay hush(ed) on his behavior."
In a separate interview back in December, Armfield praised her uncle's "incredible" humanitarian ministry Samaritan's Purse, but suggested he needs to "stick to doing that" rather than praising Trump so often.
She further argued that Trump "has not shown" himself to be a Christian.
"My Jesus that I follow was really somebody who fought for the outliers, and I think that Trump has actually done the opposite in kind of ostracizing them," she asserted.