Billy Graham: Heaven Is Real, Not Just 'Wishful Thinking'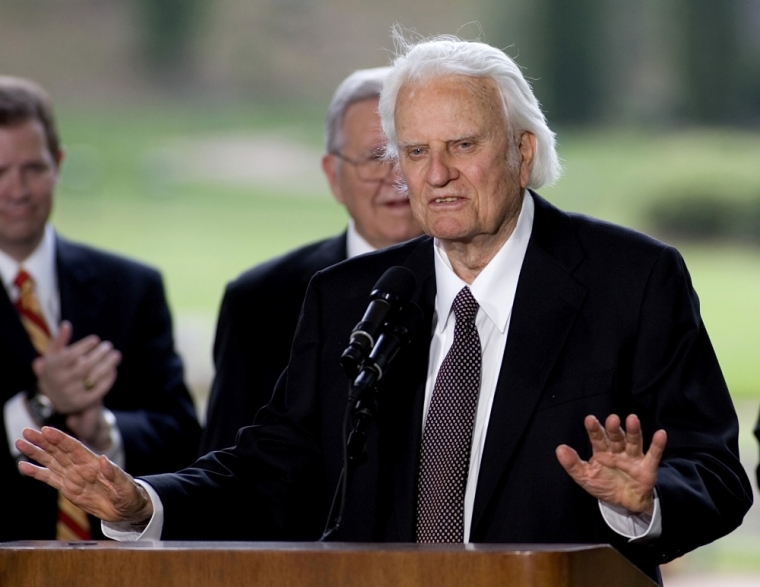 Believing in Heaven is not merely a form of "wishful thinking," the Rev. Billy Graham assures believers.
In a question posted on the Billy Graham Evangelistic Association website on Wednesday, the famed evangelist was asked about the existence of Heaven due to a family member's recent death.
"I've never thought about God very much, but the other day my aunt died and it kind of got me to thinking. I've always assumed that when we die that's the end, but she was very religious and always said she looked forward to going to Heaven. Was this just wishful thinking on her part?" the person asked.
Graham responded that "this wasn't just wishful thinking on her part" but rather was based on "a strong conviction that death is not the end but the beginning — the beginning of an eternity of joy and peace in God's presence forever."
"Where did this conviction of hers come from?" posited Graham, "it came from her faith in Jesus Christ as her Savior and Lord."
"You see, you and I were not meant for this world alone; we were meant to live with God in Heaven forever. Our souls or spirits were created in God's likeness — and just as God will never cease to exist, neither will we."
Graham went on to assure the person that their recently deceased aunt was knowledgeable of Heaven and the need for salvation through faith in Jesus Christ.
"Your aunt knew all this, and by faith she had committed her life to Jesus Christ and trusted Him alone for her salvation," added Graham.
"And if she could somehow speak to you today, she'd urge you to do the same. Don't continue to turn your back on Christ, but open your heart and life to Him."
According to a Pew Research Center report from last November, a supermajority of Americans surveyed as part of their Religious Landscape Study believed in the existence of Heaven, described as a place "where people who have led good lives are eternally rewarded."
"These percentages are little changed from 2007, when Pew Research Center's first Religious Landscape Study found that 74 percent of Americans believed in Heaven, and 59 percent believed in Hell," noted Pew.
"Among religiously affiliated Americans, the belief that there is a Heaven is even more widespread, with 82 percent holding this view, about the same as in 2007. Belief in Hell has held relatively steady in this group."