Billy Graham Went From Being Labeled 'Witch Doctor' to Handing Bible to Kim Il Sung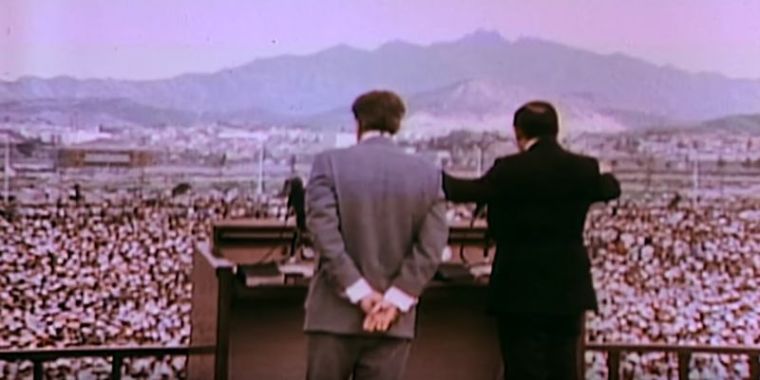 The Rev. Billy Graham's translator for his 1973 trip to South Korea has recalled how the preacher, who died Feb. 21, was once labeled a "witch doctor" by North Korea, but ended up handing Kim Il Sung a Bible.
Billy Kim, the translator, told CNN in an article published Friday that Graham drew 3 million people for his preaching event in Seoul, which angered North Korea's authorities.
"The North Korean response was the 'witch doctor from America came and performed a witch act,'" he said.
Graham received an invitation to visit the country in 1992, where he spoke with dictator Kim Il Sung, the country's first leader and Kim Jong Un's grandfather. The preacher was able to present the North Korean leader with a Bible as a gift, in a country where simply owning a copy of the Gospel could send believers and their families to prison camps.
Billy Kim said Kim Il Sung asked Graham to go on a fishing trip with him. The translator recalled his advise for the evangelist: "I said, go fishing with him, but make sure that you get a favor in return. And that favor would be Kim Il Sung could get people — 200,000 people in a stadium in five minutes. That's North Korea."
Graham did not achieve the ambition to preach before so many people in a single stadium there, but he was the first foreigner to preach at Pyongyang's Bongsu Church, a government-sanctioned house of worship.
While North Korea claims that it allows freedom of religion, persecution watchdog groups have explained that such churches are only used for propaganda purposes by the government.
The Washington Post reported last week that Graham's trip to North Korea in 1992 was one of his most significant overseas events, and it paved the way for other American leaders, such as former President Jimmy Carter, to visit the isolated regime in hopes of improving relations.
Graham said back then that there were reasons for optimism regarding North Korea's future.
"I think there's going to be some changes," he told reporters at the time. "They've lost the support of the Soviet Union. I got the impression they're reaching out toward other nations for some friend."
The evangelist's attempts at friendship with Kim Il Sung allowed in later years for his son, Franklin, to help deliver aid to the country and its many people in need.
To this day, North Korea remains at the top of numerous lists detailing Christian persecution, however, with believers having to keep their faith in total secrecy, or risk being executed.
Despite all the suffering they are subjected to, however, Christians have said that they are praying not for themselves, but for current leader Kim Jong Un to come to know Christ.
Eric Foley of Voice of the Martyrs, Korea, told Release International earlier this month: "Perhaps North Korean Christians know better than the rest of us, that it is not a change of government that will bring peace, but the entry of the Prince of Peace into our hearts. We should follow their lead and pray not for regime change, but for a change of the heart of the regime."