Billy Graham Responds to Obama Victory, Continues Evangelism Campaign
Evangelist Billy Graham, who turned 94 the day after the Nov. 6 presidential elections, has written a response to the re-election of President Barack Obama while sharing his plans for the future, which include a new evangelism campaign.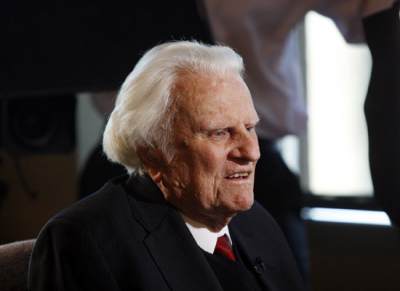 "Now with the votes counted, it is important to remember that whether we are personally pleased with the outcome or not, God wants us to pray for those chosen to be our leaders – at the national, state, and local levels. The Bible urges us to do so with both respect and thanksgiving (see 1 Peter 2:17; 1 Timothy 2:1–3)" the evangelist says.
Graham faced some criticism after he appeared to put his support behind GOP candidate Mitt Romney, a Mormon who some evangelical leaders said should not be supported by mainstream Christians. Graham met Romney last month at his home in North Carolina and praised him for his strong personal values, which he said were aligned with biblical positions – such as Romney's support for traditional marriage and his pro-life views.
While stopping short of officially endorsing Romney, the Billy Graham Evangelical Association published a number of articles informing Christians that they need to pray and vote based on those biblical values. Furthermore, an article describing Mormonism as a "cult" was removed after the candidate's visit with Graham and his son, Franklin.
In his response to Obama's victory, however, Graham reflected that regardless of the results, no election will solve America's basic problems – which he says stem from the human heart. He added that the only path to restoration for a person or for a nation is through repentance.
"The Bible says, 'Repent therefore, and turn back, that your sins may be blotted out, that times of refreshing may come from the presence of the Lord (Acts 3:19–20, ESV),'" the evangelist said. "Only the Gospel, God's Good News, has the power to change lives, heal hearts, and restore a nation."
His response could perhaps be described as more mild compared to the warning issued by Franklin Graham on CNN after the results were announced.
"If we are allowed to go down this road in the path that this president wants us to go down, I think it will be to our peril and to the destruction of this nation," Franklin Graham commented, referring also to the legalization of same-sex marriage by voter referendum in four states.
As for his plans for the future, Billy Graham said that despite his limited physical ability at this stage in his life, he will spend the next year doing all he can to help further the BGEA ministry and "bring the Gospel of Jesus Christ to every possible place in America by the time of my 95th birthday."
The popular evangelist noted that his son will be spearheading this vision and outreach and working with "thousands of churches across every state in the country." Graham calls this mission "My Hope," which he describes as his "passionate, heartfelt desire to see God change hearts and lives in every community in America."
Rev. Billy Graham at age 92 interviewed by Greta Van Susteren