9-Foot Billy Graham Statue Move Delayed as LifeWay Blames Unforeseen Problem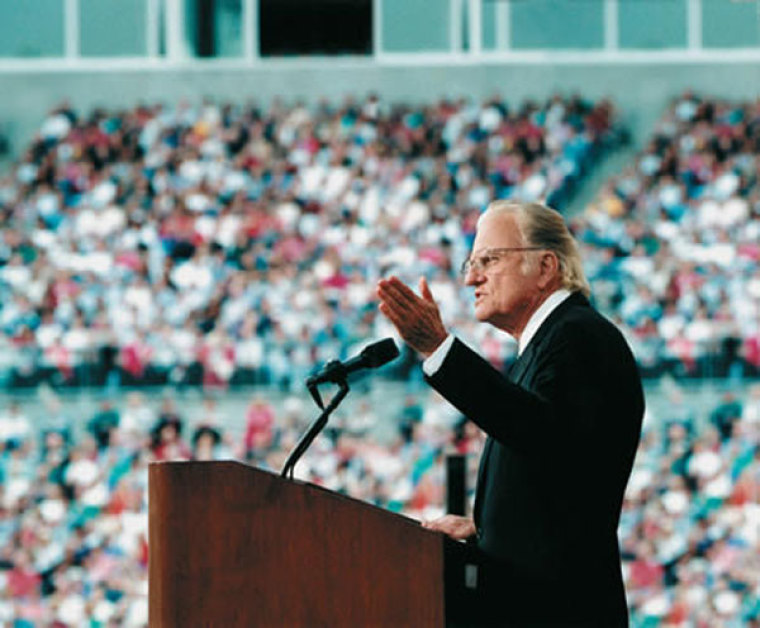 LifeWay Christian Resources announced Wednesday that the removal of a large bronze statue of the Rev. Billy Graham from its Tennessee headquarters to its new home at Ridgecrest Baptist Conference Center in North Carolina has been delayed due to unforeseen circumstances.
In an "editor's note" on LifeWay's newsroom page, the organization explained: "LifeWay has delayed the removal of the Billy Graham statue because it was attached to the ground differently than expected. A new date has not yet been set," read the note.
In April 2006, the Graham statue was unveiled at the Southern Baptist Convention's annual meeting in Greensboro, North Carolina.
The bronze statue featured a 9-foot tall Graham in a three-piece suit standing with arms open, one hand holding a Bible, with a giant 17-foot tall cross beside him.
The statue was created by Terrell O'Brien, a Wyoming Baptist pastor who had over 20 years of sculpting experience.
"I have to try to tell a story and pay tribute as well," stated O'Brien in 2006. "This was not easy, in particular because I'm dealing with a world-known figure. It caused me to tremble. But it's been a tremendous blessing."
Earlier this week it was announced that after about a decade of being in Nashville, the statue was going back to North Carolina.
Thom S. Rainer, LifeWay president and CEO, said in a statement that the Ridgecrest Baptist Conference Center "is a perfect location for the Graham statue."
"It is only a few miles from the home where Mr. Graham has lived most of his life, and it will welcome nearly 70,000 men and women, boys and girls who come to Ridgecrest every year for spiritual training and retreat," stated Rainer.
The Ridgecrest Conference Center is owned by LifeWay. Ridgecrest was founded in the early 1900s by Bernard Washington Spilman with the intention of being a spiritual retreat.
"In the Spring of 2002, Ridgecrest initiated a revitalization plan constructing the new Rutland Chapel, a 300-seat auditorium nestled in a beautiful wooded hillside, as well as the Mountain Laurel Inn — with 228-deluxe accommodations complete with eight conference rooms, a fitness room, as well as a 240-seat mini auditorium," noted Ridgecrest on its website.
"In May of 2009, the Johnson Spring Conference Center was opened with a 900 seat ballroom, exhibit hall and additional classroom space. Additional remodeling projects are planned throughout the next several years as Ridgecrest embraces a new century of ministry and mission."