Billy Graham Warns Against Crossing Sexual Boundaries Set by God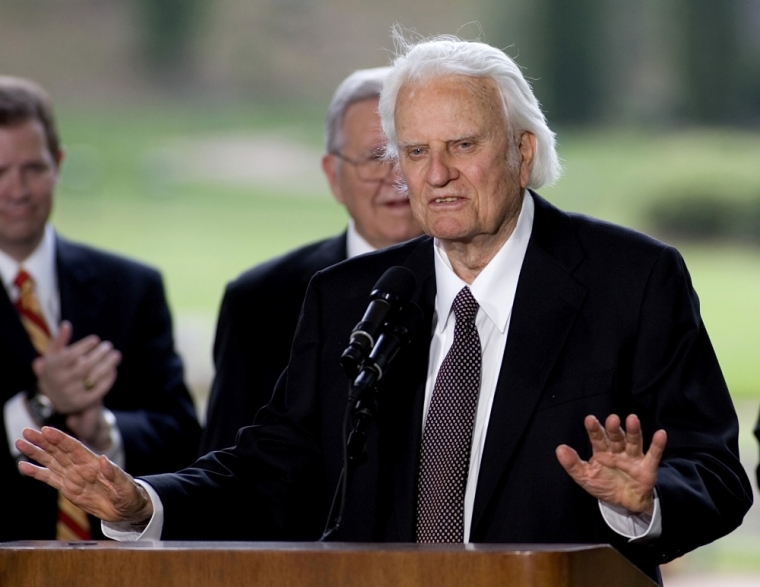 Sexual activity outside of marriage is against God's plan, and disobedience may result in negative consequences, says evangelist Billy Graham.
In his syndicated advice column published Wednesday in The Kansas City Star, Graham warns a 16-year-old inquirer, who is tempted to become sexually active like his or her friends, that engaging in sex outside of marriage is against God's will and can result in physical and emotional damage.
Graham says that God wants Christians to enjoy their lives, and that is the very reason why He has created boundaries around sex. Without those "fences" people could seriously harm themselves and others.
The evangelist points to 1 Corinthians 6:18, 20: "Flee from sexual immorality. ... Honor God with your bodies."
So exactly why does God call for sexual purity? Graham says, "One reason is because he knows the dangers we face when we fall into immorality. Some of these are physical." The evangelist explains that he consistently receives correspondence from people who are dealing with an unexpected pregnancy or a sexually transmitted disease.
There are also implications that are not physical. "Many of the dangers are emotional and spiritual: guilt, conflict, depression and so forth."
Graham reminds readers that sexuality is a gift from God and that He means for it to be an expression of love between a husband and wife. "When practiced outside of marriage, however, sex becomes selfish and even manipulative — the opposite of true, self-giving love."
The preacher says that although the pressures to engage in premarital sex are great, God has an even greater plan. "If you'll only follow his plan for your life. You are facing one of the most important decisions you will ever make, and I pray you won't choose the wrong path."
The Billy Graham Evangelistic Association founder says that believers should combat temptation with the Word of God. He urges Christians to ask Him to give them strength to resist Satan, The Christian Post previously reported. Graham tells Christians, "You aren't the same person you once were; God now lives within you by his Holy Spirit. Turn, therefore, to him for the help you need to fight temptation."