#BlackLivesMatter, But We Have to Answer Why They Matter, Urban Apologist D.A. Horton Says at Southern Baptist Race Conference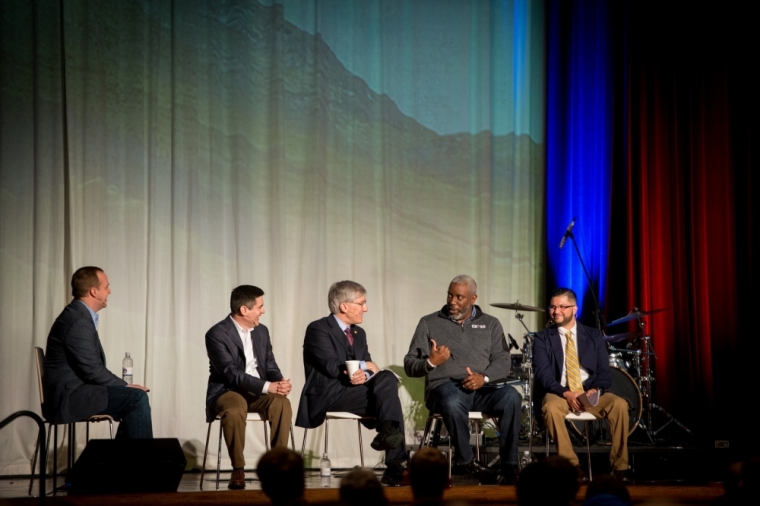 The "black lives matter" hashtag campaign does not mean that other lives do not matter, but the the campaign also needs to address why black lives matter, which includes the high abortion rate in black communities, urban apologist and former church planter D.A. Horton said Thursday.
When asked if the "black lives matter" campaign has been helpful or hurtful for race relations in the United States, Horton answered, "black lives matter but we need to answer the question, why? Why do they matter?" because the phrase by itself "ostracizes ... individuals from other ethnic backgrounds" with the implication, "so Mexican lives don't matter? White? Asian-American? Middle Eastern?"
Horton is executive director of ReachLife Ministries and the national coordinator for urban student missions at the Southern Baptist Convention's North American Mission Board. He was speaking as part of a panel discussion on "The State of Racial Reconciliation in America" at the SBC's Ethics and Religious Liberty Commission's conference on "The Gospel and Racial Reconciliation," which takes place Thursday and Friday in Nashville.
Horton was citing and recommending an article by Anthony Bradley, associate professor of theology at King's College in New York City, "Why Do Black Lives Matter?" which was posted to the Acton Institute blog in December.
"In a culture that has done all it can to expunge moral virtue from the aspirations of human life, why are we surprised that we are shouting, 'Black lives matter?'" Bradley wrote. "When human persons are not expected to be in communion with God and others, why are we surprised that the reverence due to the human person is lost? Black lives matter because persons are not autonomous, self-contained, individualistic creatures who do not need others for their flourishing. Black lives matter not simply because they are black but because blacks are persons — persons who are a necessary variable to the flourishing of others so that we all may attain the end for which we were created."
Understanding why black lives matter, Horton continued, entails understanding the systemic dehumanizing of blacks that occurred for 400 years of American history.
"There's been a systemic, well planned and executed attack, and complex matrix to hold down blacks for almost 400 years, pre-dating the founding of our nation when the first slaves arrived from Africa in Jamestown," he said. "So when you look at that systemically, when the animalization of the black man and black woman became a reality: feed them like dogs, work them like mules, beat them, sell them, trade them. They were not considered individuals.
"To me, the 'black lives matter' hashtag, when it is not kept to 140 characters, when it is unpacked to the reality of reestablishing the dignity of being an image bearer of God, the conversation takes it further .... We see that there is some systemic issues that need to be addressed."
One of those issues, he explained, is the "the eugenics aspect of black lives in America," which is evident today in the abortion industry.
"When the 2010 census came out it reported that the African-American population was less than 13 percent, but African-American women had 35.4 percent of abortions in our nation in 2009. That's a problem," he said.
One of the reasons the abortion rate is so high in black communities, he continued, is that Planned Parenthood intentionally places its abortion shops in those communities.
"There is accessibility to the abortion clinics when Planned Parenthood is targeting African-American and Latino communities. Where the population of those demographics are 50 percent and above, you'll find well between 52 and 70 percent of Planned Parenthood surgical abortion centers in our communities. So there is an intentional assault on black lives," he said.
Horton closed by reiterating that "black lives matter" does not mean other lives do not matter, but it does serve to remind the nation of the slavery, systemic dehumanization and stripped dignity of blacks that took place for over 400 years.
"So, it is not saying other lives don't matter, but I think it is contributing to the fact that we need to restore dignity to a people who have been dehumanized when ministers in the South would say that 'they don't have any souls, they're like a dog, they'll never get to Heaven.'"
The panel was moderated by Philip Bethancourt, executive vice president of the ERLC, and also had Russell Moore, president of the ERLC, Robert P. George, McCormick Chair in Jurisprudence at Princeton, and Thabiti Anyabwile, church planting pastor for Anacostia River Church.