Bobby Jindal Says Donald Trump 'Has Never Read the Bible,' Is 'Dangerous, Narcissist, Egomaniac'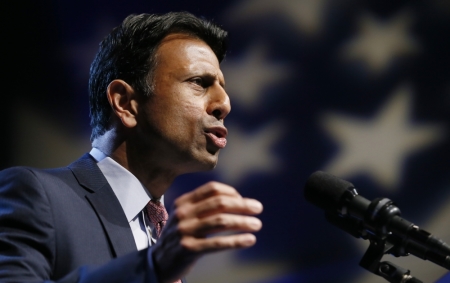 Louisiana Governor and Republican presidential candidate Bobby Jindal targeted frontrunner Donald Trump in a speech, saying the billionaire businessman never read the Bible because "he's not in it" and calling him "dangerous, a narcissist, egomaniac."
"When asked, he couldn't even name a specific or a single Bible verse that was important to him, that had an impact on him," Jindal said at the National Press Club in Washington D.C., according to Daily Caller.
"Well, do you know why? It's clear Donald Trump has never read the Bible. The reason we know he's never read the Bible? He's not in the Bible," added Jindal, who is serving in his second term as governor.
In a recent media interview, Trump wasn't able to name his favorite Bible verse. He was then asked which does he prefer the New Testament or the Old Testament. "Probably equal. I think it's just incredible," the billionaire businessman responded.
"Folks, Donald Trump is not a serious person. This is a carnival act. These are serious times for our country," Jindal added in his speech Thursday. "The Democrats have practically gift wrapped this election for us. The whole thing is set up for us to win, now we're flirting with nominating a non-serious, unstable, substantive-free candidate. We cannot send this narcissist, we cannot nominate this egomaniac."
Referring to Trump's campaign slogan, Jindal went on to say that nominating him would be "a certain way for us to ruin our opportunity to make America Great Again… Look, the silly summer season is over, it's time to get serious about saving our country. It's time to send Donald Trump back to reality TV."
Trump's belief in God became an issue after he was asked about his faith at the Family Leadership Summit in Iowa in July. "People are so shocked when they find out I am Protestant. I am Presbyterian. And I go to church and I love God and I love my church," Trump responded.
Asked whether he has ever asked God to forgive him, Trump said, "I am not sure I have. I just go on and try to do a better job from there. I don't think so. I think if I do something wrong, I think, I just try and make it right. I don't bring God into that picture. I don't."
He further explained, "When I drink my little wine – which is about the only wine I drink – and have my little cracker, I guess that is a form of asking for forgiveness, and I do that as often as possible because I feel cleansed. I think in terms of 'let's go on and let's make it right.'"
Last month, Trump jokingly compared himself with evangelist Billy Graham, looking at the crowd gathered for his rally at a 40,000-seat college football stadium in Mobile, Alabama. "I know how Billy Graham felt," he said, adding that the Bible is his favorite book. "What's my favorite book? The Bible! The Bible.... We take the Bible all the way."