Boston Bombing Suspect Killed as Manhunt Continues for Second; Details Emerge on Tsarnaev Brothers
Dzhokhar Tsarnaev Described His Worldview as 'Islam'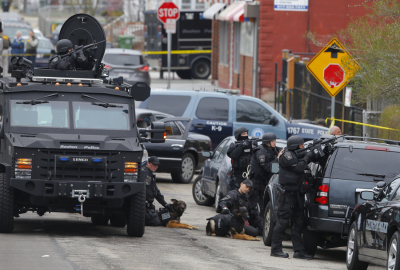 One of the two suspects in the Boston Marathon bombings was killed in the early hours of Friday morning, following a frantic police chase and the fatal shooting of an MIT campus police officer by the suspects. The second suspect is still at large and is the subject of a massive manhunt that has locked down large parts of various Boston neighborhoods.
The two suspects have been identified as Dzhokhar A. Tsarnaev, 19, of Cambridge, Mass., and his brother, Tamerlan Tsarnaev, 26.
Tamerlan was the person labeled Suspect No. 1 on Thursday by the FBI, wearing the black baseball cap in images publicly released by authorities. He is also the brother who was killed during the police confrontations early on Friday morning.
Dzhokhar is the other suspect seen in a white baseball cap in the images released of the day of the Boston bombings. He reportedly escaped during the confrontation in which his brother was killed, and is currently being hunted.
The brothers were confirmed as ethnic Chechans, according to their uncle who addressed reporters just before lunchtime. The uncle also described them as Muslim but urged "this has nothing to do with Islam." He suggested that they were "losers" who were angry at others who had managed to settle in the United States successfully, where as they themselves had struggled to do so.
Various postings made by the two brothers on social media sites has also indicated that they held an Islamic worldview, and there is nothing to suggest at this time that their religious views were motivations in the attacks on Monday.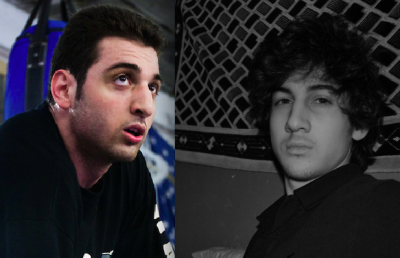 Dzhokhar is said to have been in the United States for as long as 8 years, and a friend, speaking on the condition of anonymity to CNN, has described him "as American as you or me."
Authorities have indicated that the dead suspect, Tamerlan, had a homemade bomb device strapped to his body when he was killed. He reportedly had bullet wounds, and explosive wounds on his body and was run over in the chaotic confrontation with police. Early reports have claimed that it was Tamerlan's younger brother that may have inadvertently run him over as he attempted to escape.
The manhunt for the younger brother has put the entire Boston region on edge, and Gov. Deval Patrick of Massachusetts has ordered residents of Boston and its neighboring communities to "stay indoors, with their doors locked."
Hundreds of police officers were seen in the area, with houses in some streets being searched door to door, and bomb squad vans were seen traveling to one sealed off street. All public transport services were also suspended in the city to try and keep the streets clear and aid authorities with their search.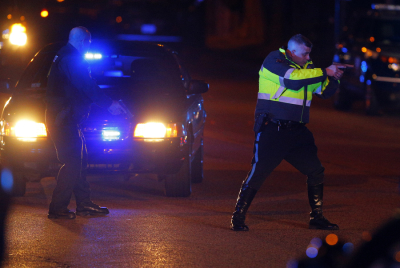 Developments started moving forward at a fast pace late Thursday night, when the two suspects are said to have robbed a 7-Eleven store in Cambridge. An MIT police officer who was responding to the call is said to have been ambushed by the brothers as he sat in his cruiser. He was found shot numerous times, and rushed to Massachusetts General Hospital, where he was pronounced dead.
Col. Tim Alben of the Massachusetts State Police has said, "We believe these are the same individuals that were responsible for the bombing on Monday at the Boston Marathon."
Soon after, reports of an armed carjacking of a Mercedes sport-utility vehicle by two males came through to police. The carjacking was reported to have taken place in the area of Third Street in Cambridge.
A police statement read: "The victim was carjacked at gunpoint by two males and was kept in the car with the suspects for approximately a half-hour."
He was later released, uninjured, at a gas station on Memorial Drive in Cambridge, but reported to police that the two men identified themselves to him as the Boston Marathon bombers.
A frantic search began for the vehicle, and it was found and pursued into Watertown.
During the chase, "explosive devices were reportedly thrown from car by the suspects," the police statement described.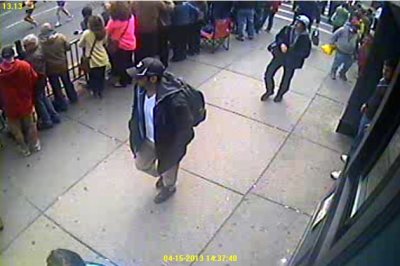 Gunfire was exchanged in the area of Dexter Avenue and Laurel Street, and some local residents have reported hearing in excess of 60 gunshots over that period.
One local eye witness has described that they saw the two suspects light up something that looked like a pressure cooker and throw it towards the officers. However, it only went about 20 yards and exploded.
At that stage reports describe that older brother Tamerlan tried to run, but was tackled by officers.
Younger brother, Dzhokhar, is then said to have gotten into an S.U.V. and drove directly at the officers. The vehicle went right through the police officers, and some have reported that it also hit Tamerlan. He then drove off from the scene.
Officers are reported to have found several bags at that scene, and a police bomb robot was brought into the area and residents were told to stay indoors and away from their windows.
Through that exchange, an MBTA police officer was seriously injured and taken to the hospital.
Tamerlan was critically injured, and was found with multiple gunshot wounds and taken to Beth Israel Deaconess Hospital in Boston, where he was pronounced dead at 1:35 a.m. ET.
As the hunt continues for Dzhokhar on Friday morning, attention has turned somewhat to the background of the brothers. It soon emerged that they had a big presence on social media sites.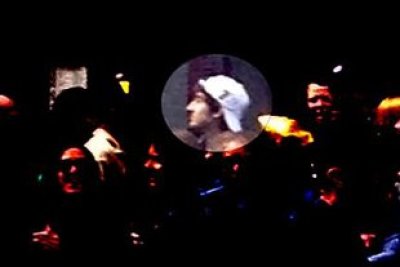 On Russia's popular social media site, Vkontakte, Dzhokhar has described his worldview as "Islam." He also identified the "the main thing in life" as "career and money."
He also noted a verse from the Muslim Koran: "Do good, because Allah loves those who do good."
Friends and former schoolmates have been coming forward on Friday morning, using words such as "very sweet" and "completely normal" to describe the younger brother.
Tamerlan Tsarnaev has also listed some of his favorites clips on video sharing website YouTube, which included some Russian rap videos and a testimonial from a young Russian man titled "How I accepted Islam and became a Shiite." Another clip was titled "Seven Steps to Successful Prayer."
According to the Interfax news service, Alvi Karimov, a spokesman for Ramzan Kadyrov, leader of Chechnya, has confirmed that the Tsarnaev brothers have not lived in Chechnya for many years: they "moved to a different region of the Russian Federation from Chechnya many years ago. Then the family lived for a long time in Kazakhstan, and from there moved to the United States, where the members of the family received residency permits."
He added, "In such a way, the figures who are being spoken about did not live in Chechnya at a mature age, and if they became 'bad guys,' then this is a question that should be put to the people who raised them."
CLICK HERE FOR LIVE STREAM VIDEO COVERAGE OF THE CONTINUING BOSTON BOMBING MANHUNT