'Boundless' Enthusiasm for Christian Conference Giving Singles a Chance to Celebrate Current Status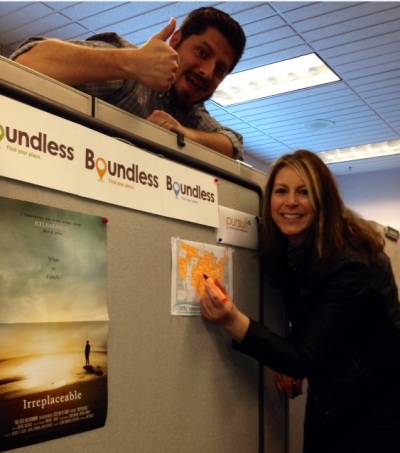 Melissa Rodriguez is the only 30-something, never-married female without kids at her 200-person church. In fact, when her Miami-based church tried to start a single's ministry, her dad was the only man who showed up.
To find solidarity in her current status, Rodriguez has turned online and become an avid listener of the Boundless podcast, Focus on the Family's weekly program geared towards all things "young adults." Next month, she'll be heading the furthest west than she's ever traveled to meet this digital community in person, thanks to Pursuit, Focus' inaugural conference geared specifically towards singles.
"I'm just really excited to go to Pursuit and meet people," Rodriguez said last month after she called into the podcast. The Florida resident shared that she had even printed out a picture of FotF and been regularly praying over it.
Rodriguez' enthusiasm is also reflected by that of Lisa Anderson, the director of Boundless and the host of its podcast.
"There are all kinds of marriage, parenting, and leadership conferences, but who really is looking out for us single young adults? So we're saying 'Here, this one is for you, folks,'" said Anderson, who is also unmarried. "We want to celebrate single young adults and what God is doing in their lives."
Many of Boundless' resources which in addition to the podcast include an actively updated website and blog, are geared towards helping singles prepare for what a potential married stage of life might entail, while assisting them in figuring out their faith in a life stage which does not include a spouse or children. To that end, Anderson explained that the conference will explore both "If marriage is in your future, how do you get there intentionally and with purpose? At the same time, what are you doing right now?"
Anderson sees Pursuit's intention and format as running counter-cultural in several ways. She points out that in an era of simulcasts and webinars, this conference prioritizes being together in-person.
"We have 10 Australians coming ... plus attendees from South Korea, France, Canada and Mexico. I think we're at 43 states and six countries. It's just amazing to see," said Anderson. "The other thing is, I am absolutely floored by the diversity of folks that are coming. We have people signing up from the Bronx, from Miami, from Detroit, San Francisco. It'll be a blast just to hear the stories of everyone who is coming."
Further, Pursuit has also asked its participants to take a stand for marriage and families across the world by running a 5K.
"We're going to say that regardless of your marital status, you can honor marriage," said Anderson. "... We're asking people to run with someone in mind. Maybe someone in our audience is going to run on behalf of their grandparents who have been married 50 years and stuck it out, or run on behalf of their adopted sister who came from Ethiopia, or on behalf of their parents who struggled with their marriage but decided to go to counseling and make it happen."
Anderson shoots down any rumors that Pursuit will turn into "some weird dating mixer" though acknowledges that some "people want to come here and meet quality people of the opposite sex."
"For many, it's saying 'Wow, I would really like to make some new friends, and here are some people who love Boundless like I do, and I want to meet them,'" she said.
Those interested in attending the conference can click here, while those hoping to run in the 5K can learn more here.