'Breakthrough' actors share how miraculous true story of a boy's resurrection impacted their lives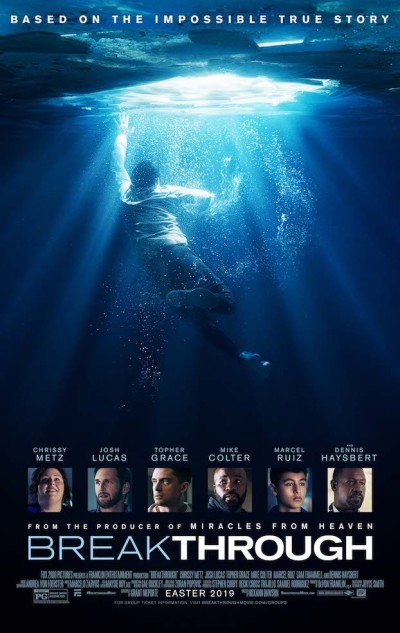 WINNIPEG, Canada — Hollywood actors starring in the upcoming film "Breakthrough" said they were moved to tears and felt like they  had been given a gift when they first read the script.
After being rescued from an icy lake, John Smith was pronounced dead at a hospital after doctors were unable to resuscitate him. But John's mother was determined not to give up on her son, and she prayed and cried out to God that her child would be brought back to life, and he was. 
"When I was given the gift of even reading the script I was so moved by it," Chrissy Metz, who plays Joyce Smith, John's mother in the film, told The Christian Post in a recent interview on the movie set in Canada. "Because we're all looking for something greater than ourselves, and we're all trying to figure it out and do the best we can in the process.
"I've had some hardships myself," Metz said, "obviously not to this degree, but things that were really trying. And the only thing that sort of kept me going was my faith."
"Breakthrough" tells the miraculous account of Joyce and John Smith, a mother and son who rely on the power of prayer and the Holy Spirit during one of life's most tragic moments. Chrissy Metz ("This is Us") plays the role of Joyce Smith and actor Josh Lucas ("Sweet Home Alabama") plays her husband. Marcel Ruiz ("One Day at a Time") portrays her son, John, who was pronounced dead for 45 minutes until God answered the desperate mother's prayer.
Fifteen-year-old Marcel Ruiz said the script actually brought him to tears.
"I had to do the big speech where just after the accident he realizes what everyone did for him, prayed for him — that was really powerful," Ruiz said. "I liked how the whole community came together. After that, I read the whole script and it was the first time I read something and I cried."
Josh Lucas, who plays John Smith's on-screen father, Brian Smith, said he tapped into his real-life role as a father for his part in the film. 
"I think anyone who has a child, this is one of the most terrifying, painful things you can go through. In this case, it ends so extraordinary and sad in such a beautiful way," Lucas explained.
"It's also a script and a story that genuinely gave me goosebumps and as I described it to myself, and my son, who's 5 years old, and the people around me in my life, it's a story that people thought was just so beautiful and people are very excited about it," he said.
When asked by CP about the importance of sharing positive stories at a time when people are inundated with news reports of mass shootings, terror attacks and natural disasters, Lucas noted that there have been high and low moments all throughout history, and life can be hard.
"To be a human being can be a trying experience," he said. "So the idea that we have, particularly works of fiction, works of fact, true stories like this that give you a real boost in the ability to believe in the miracle and the sense of human beings being connected that puts out something into the world that feels very good. And it's very inspiring. That's a wonderful thing to be asked to be a part of."
Playing the part of John Smith, who many believe to be a modern-day miracle, Ruiz said that learning about the story could buoy the faith of younger generations. 
"I feel that the audience, they're going to be very inspired with the message of just never giving up," Ruiz told CP. "Sometimes people forget about that and especially when they see this movie, you wouldn't think it was a true story of how perfectly it came out.
He continued: "John and his family, they're believers and at that age, you don't really know yet what you believe, you're still growing up and learning and John learned a lot from his parents and that's why, after the accident, he changed into just caring more about every little moment and being thankful for everything. He's going to be a future pastor, that's pretty cool."
The cast also includes Mike Colter as Tommy Shine, hip-hop artist Lecrae, and Topher Grace, who's best known for his role in the comedy series "That '70s Show." He plays Pastor Jason Noble who helps the grieving family through the ordeal.
"Breakthrough" was directed by Roxann Dawson ("House of Cards," "Scandal," "The Americans," and "Agents of S.H.I.E.L.D."). DeVon Franklin ("Miracles from Heaven") produced the film and was determined to retell the Smiths' story just as it happened.
The 20th Century Fox movie is based on Joyce Smith's book The Impossible and was adapted for the screen by Grant Nieporte ("Seven Pounds").
"Breakthrough" will be in theaters nationwide on April 17.