'Bringing Up Bates' Daughter Tori One Step Closer to Marriage: Couple Talks to Parents About Future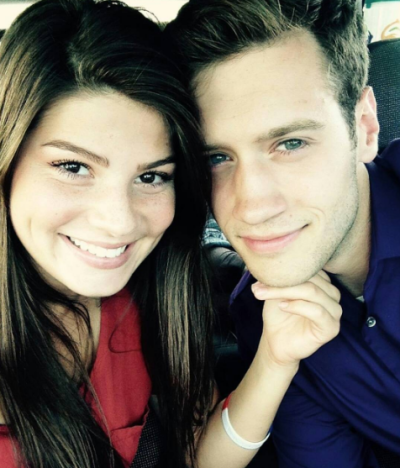 Tori Bates and Bobby Smith sat down with Gil and Kelly Jo and talked about pursuing marriage and Smith moving from Florida to Tennessee.
The Bates clan, which includes parents Gil and Kelly Jo, 19 children and six grandchildren, is getting bigger. The most-recent episode of the reality show highlighted Smith and Tori's budding romance and followed their return from a trip to Florida. Smith flew back to the Bates hometown in Tennessee to look for a place to move to after he finishes college.
"The purpose of this trip originally was to come check things out. I'm trying to see if I'll be able to move to Tennessee. I want to spend time with Tori, so it was a perfect way to come up here and do both," Smith said in a video confessional while sitting next to his love interest. "You know you can't just say, 'Oh, I'm going to come and go to this place' and just find a job once you get here. You've got to actually prepare and think ahead."
"Honestly, it's something that we've been praying about and talking about a lot, you know, because we really want it to work out, and if we don't really do anything toward it, it's not going to work out," Tori added.
During Smith's busy visit in Tennessee, he and Tori sat down with her parents for a serious conversation about their plans to wed after graduating college.
"It was really fun being able to sit down and talk to Dad and Mom about just what was going on and what was in our hearts, what the plans are, what's the future looking like because it made it seem a lot more real," the Bates daughter explained.
"This thing is happening. This thing is going somewhere," Smith added.
During a separate video confessional, Gil Bates expressed his feelings about his daughter and Smith's courtship.
"It's just hard to think about it, you know, it was always hard to think about giving your daughter away," Gil admitted. "But I can look and say: 'Hey, Bobby's going to take care of her. He's going to. He's the right one for her. It really seems like the Lord's direction.'"
The family patriarch also gave his future son-in-law a tour of the church plant he's been working on and offered Smith a chance to work there after he finishes with his ministry degree.
"We first walked in, and it was literally just concrete and just all the open work that's going on and just to see the promise that it has and the potential of what could be there for the future is really exciting," Smith gushed.
The sixth season of "Bringing Up Bates" will include a few more episodes which will likely highlight the budding relationship which began in February. According to a statement shared with The Christian Post, this season will focus on a "summer of love for the family."
"From Carlin's blooming relationship (will it become a courtship?) to Tori's deepening bond with Bobby (will it end in a proposal?) to someone getting married in the premiere (who will it be?), love is blooming for the Bates. And lately, their simple rural lifestyle in Tennessee is in a flurry of transitions as this remarkable and ever-expanding family continues to navigate life's trials and triumphs. Erin and Chad get pygmy goats, Jeb and Jud take martial arts classes and Jackson gets his learner's permit. Meanwhile, Bobby graduates from college and contemplates moving from Florida to Tennessee to be closer to Tori, and Nathan pursues his dream to be a pilot instructor."
"Bringing Up Bates" airs Thursdays on the Up Network.