'Bringing Up Bates' Stars Announce Pregnancy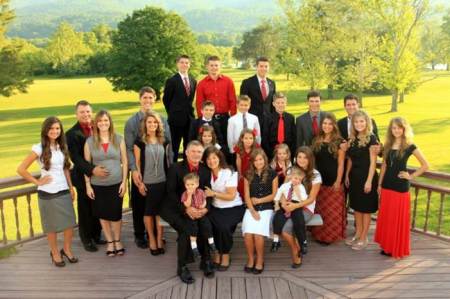 The "Bringing Up Bates" family is adding another member to its ranks; daughter Alyssa and her husband John Webster announced on Wednesday that they are expecting their first child.
The reality series, which features the larger-than-life Bates family of 19 kids and their parents, has been picked up by the UP network for a 13-episode arc, starting on Jan. 1, 2015. The family has traditional, Christian values that have led them to welcome 19 children. Now their children are having families of their own.
"We are overwhelmed with excitement to be expecting," Alyssa and John said in a statement. "We can't wait to welcome our precious little baby into the world. Our child is going to be spoiled with so many aunts and uncles."
Alyssa and John married in May, 2014, in Tennessee and are thrilled to be expecting their own child after Alyssa's older brother Zach's son was born on Oct. 29. Bradley Gilvin Bates is the first grandchild for Gil and Kelly Jo, the patriarch and matriarch of the Bates family. The entire family has been through several changes in the past few months, with the birth of Bradley and Alyssa's wedding.
The Bates family is close with the Duggar family of TLC's "19 Kids & Counting." They are rather conservative and known for their fervent religious beliefs. Both practice the tradition of courtship, and viewers of "Bringing Up Bates" will see daughter Michaella court her beau, Brandon Keilen and spend the holidays with the family.
"We are thrilled to learn that we have another grandbaby on the way!" Gil and Kelly Jo said of Alyssa's news. "Our cup is overflowing with blessings! We can hardly wait to welcome this little one into the world!"
The family resides in Tennessee and will share their story with the public starting on Jan. 1, 2015 on the UP network. To learn more about the family ahead of time, click here.