'Bringing Up Bates' Stars Welcome Son After Several Miscarriages; Baby Carson Defied All Odds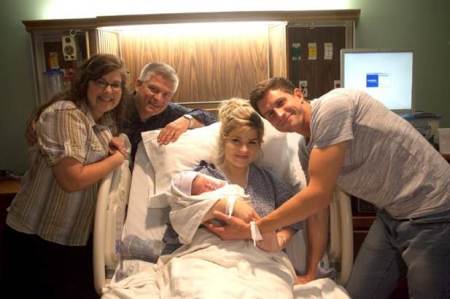 After several miscarriages and a tenuous pregnancy, "Bringing Up Bates" stars Erin (Bates) and Chad Paine welcomed son Charles Stephen Paine IV on Thursday, May 14.
The baby boy, nicknamed "Carson," defied all odds and was born happy and healthy. Erin's pregnancy was threatened by a blood-clotting condition, which doctors heavily monitored after it caused several miscarriages.
Doctors thought that this pregnancy would likely lead to complications for the baby, should he make it to full term and be delivered safely. However, Carson beat those odds and was born without any problems and weighed a healthy 6 pounds and was 19 inches long.
"Words cannot describe the joy we feel," the new parents said. "The pregnancy has been filled with times of excitement and gratitude, but also with many fears about Carson's safety. We are so grateful to all that prayed and sent encouraging messages. Our hearts are so full and we know our lives will be change forever. We thank the Lord for allowing us to experience this blessing."
Erin and Chad previously spoke of the heartaches they felt with the loss of several pregnancies, which they shared with viewers.
"Going through a miscarriage is one of the hardest things," Erin told People magazine in January. "You build up all these expectations, and you prepare, and you have the date in your mind, and it's just … it's heartbreaking when that ends. It's like your world's been crushed."
But Erin and Chad never gave up hope of having children and relied on their faith for strength and comfort during those difficult periods.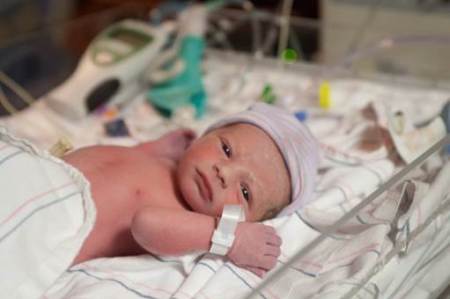 The Bates family has been continually growing beyond the 19 kids born to Gil and Kelly Jo Bates. The Christian family gained national attention with their reality series on UP TV, becoming one of the channel's highest rated shows. The couple has welcomed three grandchildren in a short time, adding to their joy.
"Seeing Carson arrive here safely has been one of the most precious sights, because we have been praying for his safety for so long. We are truly grateful to welcome our third grandbaby and we feel so blessed to be able to celebrate this moment," Gil and Kelly Jo said.
Fans of the series will get to see baby Carson's arrival when the new season premieres on UP TV at 9 p.m. ET on June 4.