Brooklyn House Fire Leaves 7 Children Dead; Father Relies on Faith to Endure Loss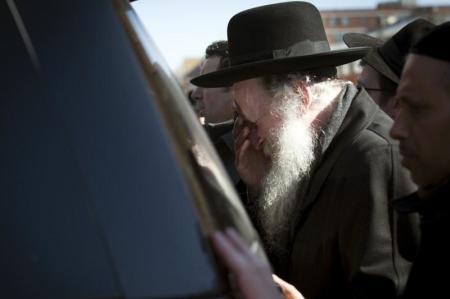 The father of seven children killed in a fire on Saturday is clinging to his Jewish faith and community for support as he returns to Israel to bury his loved ones.
Gabriel Sassoon mourned his children, aged 5 to 16, at a funeral held on Sunday. He spoke about his children's purity and spoke to the hundreds of Orthodox Jewish mourners gathered in the street to show their support for the grieving father.
"My children, they were so pure. They all had faces of angels. Hashem (God) know how much I loved them," Gabriel said. "I want to ask my children's forgiveness. I did my best and my wife did her best. Please, everybody, love your child, love your children, love other's children. That's all that counts. Understand them, don't negate them."
The fire broke out on Saturday night, which is a day of rest for the Orthodox community. A hot plate reportedly malfunctioned and caused the fire that quickly spread through an open stairwell leading to the family's bedrooms. Gayle Sassoon, the mother, and 15-year-old daughter, Siporah, managed to break through windows of the second floor and jump to safety. Gayle remains in a medically-induced coma. The children died of smoke inhalation and, according to The New York Times, died in minutes.
Gabriel was at a religious retreat and did not learn of what had happened until hours later, when detectives found him at a synagogue in Manhattan.
"My children were unbelievable," Gabriel said. "They were the best. But the truth is every child is the best, every child is the most beautiful child in the world. We have to love them as parents and we have to love them as teachers. I don't know how I could have everything and now I have nothing. There's only one way to survive this: It's complete, utter and total surrender."
The bodies of the children are being flown to Israel for burial in Jerusalem.
City Councilman Dov Hikind, who sometimes acts as a spokesman for the Orthodox community in Brooklyn, told New York Daily News that the loss was "unbelievable."
"Neighbors were telling me the kids were playing in the snow before Shabbos. Boy, in just one moment, it all just disappears. He's standing there next to seven caskets," Hikind said of Gabriel. "To be able to give strength and faith in God to everyone else — it was just amazing. It just blew everyone away. … He was talking about people getting along and not getting caught up with petty things. We are all in shock in our community."
Senator Chuck Schumer, D-N.Y., attended a candlelight vigil on Sunday evening and pledged support to the Sassoon family.
"There is no greater loss, there's no greater tragedy than when a parent buries a child. The Sassoons have to bury seven. The community will embrace the Sassoon family in this tragedy and for the rest of their lives," Schumer said.