2 More Americans Confirmed Dead in Brussels as Prosecutors Charge 3 New Suspects With Terrorist Activity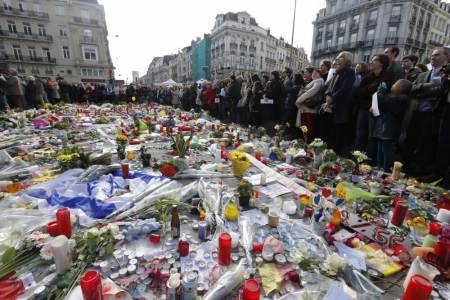 BRUSSELS — Brussels prosecutors on Monday said they had charged three more people with participating in a terrorist group after a series of raids following bomb attacks on Brussels airport and a metro train last week.
In a statement on Monday, the federal prosecutors named the three charged as Yassine A., Mohamed B. and Aboubaker O., adding they could not give further information about them at this stage.
They also said they had released without charge a fourth man they had been questioning.
On Sunday, they had announced they were holding four people following 13 new raids in and around Brussels and Antwerp.
The death toll from last Tuesday's bombings has risen to 35, the health minister said on Monday.
"Four patients deceased in hospital. Medical teams did all possible. Total victims: 35. Courage to all the families," Maggie De Block said in a tweet.
The figure includes three suspected suicide bombers. More than 300 people have been injured.
Belgium's crisis center previously said that 28 of the victims had been identified. Of these, 15 died at the airport of whom six were Belgian and nine were foreign nationals.
The 13 victims of the metro blast included 10 Belgians and three foreign nationals.
The foreigners killed in the attacks were British, Chinese, Dutch, French, German, Italian, Swedish and U.S. nationals.
(Reporting by Barbara Lewis and Philip Blenkinsop; Editing by Alison Williams)