California Parents Outraged to Learn Second Graders Are Watching Porn on School-Issued iPads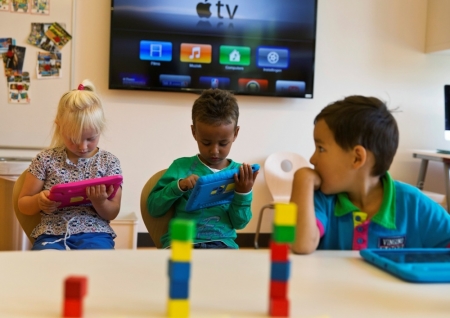 Parents in a California coastal town are enraged at their local school district after they discovered that second graders are using their school-issued iPads to watch pornography and other inappropriate material while at home.
At last Tuesday's meeting of the Encinitas Union School District Board of Trustees, five parents voiced their anger at the fact that their children's school-issued iPads don't have filters or firewalls to prevent children from accessing inappropriate websites while they're off of school grounds.
Although the school district has installed a filter for when the the children are using the iPads on school property, the filter doesn't work once the children have left their school.
One dad told the board that his 7-year-old son had viewed pornorgraphy while at school because one of his classmates had downloaded porn while at home and then showed friends once he got to school, the Seaside Courier reported.
Parent Amber Goodson, who has three children enrolled in the school system, also said her kids saw the images from the classmate's tablet. Goodson wrote an email to other parents and the Seaside Courier explaining the problem with the iPads.
"[My kids] hopped in the car, told me what happened, and I sort of freaked out," Goodson wrote in her email. "I'd assumed that these iPads that my school had given to my kids were safe for my kids, and I thought there must've been some sort of error. How did that image get through the filters? I drove home, did a bit of research, and quickly learned something terrifying: these school iPads have no filters."
The school district spent over $2.7 million on 5,400 iPads that were assigned to nearly all of its students. Although the school district did not put into place a filter of firewall plan for the iPads for off-ground use, the school district's policy has placed the responsibility on parents to prevent their kids from accessing inappropriate sites on government-owned iPads.
"However, we cannot control what is accessed or loaded onto the device at home. That is the responsibility of the student, and parent or guardian," the policy states. "Any inappropriate applications, documents, content, images, or sound-bites downloaded on the district-owned device at home then brought to school, will be handled in accordance with our progressive discipline guidelines."
Although the school district policy relies on the parents to prevent their children from accessing inappropriate material, one dad, who claims to work as an IT specialist, told the board that he had installed his own filter onto his child's iPad. However, the teacher deleted software off the iPad the next day.
Goodson has been a continuous voice in the ear of EUSD Superintendent, Timothy Baird, over the last nine months. She has called for the district to work toward building a better firewall system that can effectively limit students access off of school grounds.
It wasn't until earlier this month that Baird sent Goodson an email indicating the possibility that that the Internet filter parents have been looking for is on the horizon.
"Since we last spoke, our IT director has come up with a potential solution to utilize our mobile device management system to filter our iPads at home," Baird's email stated. "We are currently testing this solution in an upper grade classroom at Ocean Knoll. As soon as we get verification that this solution is working, we will be implementing it district wide. I appreciate your input and focus on this issue."
Baird said that he would soon to provide a timeline for when the filter problem would likely be sovled.
The Daily Caller reports that a school district in Los Angeles is having massive troubles with it's new iPad program, in which the school spent over $1 billion to give every student and teacher an iPad. Hundreds of students figured out how to hack the iPad's security settings. After taking away 71 students' iPads for violating the code of conduct, the school district took back the rest of its iPads a week later.