Candace Cameron Bure on Dave Coulier's Wedding: 'I'm So Excited He's Finally Tying the Knot!'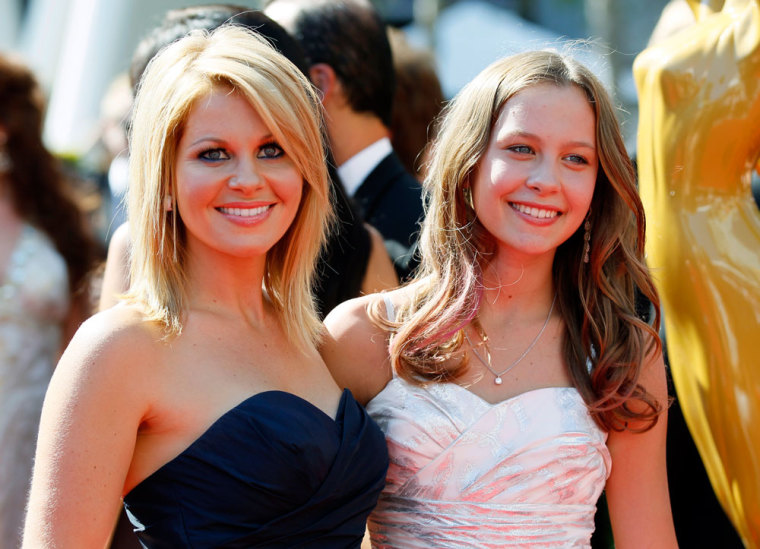 Candace Cameron Bure is looking forward to a "Full House" reunion of sorts when former co-star Dave Coulier marries his longtime girlfriend, Melissa Bring. The mom of four also spoke out about her daughter Natasha getting her driver's license, which could mean that dating is right around the corner.
Coulier and Bure spent plenty of time together during the "Full House" years, and he even introduced her to her husband, Valeri. Now it's Coulier's turn to exchange vows, though Bure admitted she had nothing to do with Coulier and Bring getting together, though she has spent plenty of time with Bring.
"They've been together for so long," Bure told People. "I met Mel for the first time at a hockey game, and I'm so excited that they're finally tying the knot. This has been a long time coming, so I'll be there at the wedding. We [get together] all the time, so it will just be another fun time together.
Another "Full House" alum expected to attend the wedding is comedian Bob Saget, and even though he is known for his often profanity-laced stand up, Bure is looking forward to seeing her on-screen dad and hearing his toast to the newlyweds.
"He will be making some kind of toast, and I can only imagine what will come out of his mouth. Dave and Bob have been best friends since they were in their early 20s, so it will be funny," Bure said. "I'm sure we will have the tissues out because there will be tears streaming down from crying and laughing so hard."
There's another person whose relationships will be of utmost importance to Bure -- those of daughter Natasha, who will turn 16 in August. In addition to earning her driver's license, Natasha will officially be allowed to date, which has her mom and dad excited to see who she chooses to go out with.
"We just had this conversation last night because we said, 'Well, are you going to bring anyone over soon?' She told us that all of the boys are scared of her dad, which is what we want, so that's fantastic!" Bure joked. "I'm very close with her. I'm sure there are things that she doesn't tell me, but there is a lot that she does tell me. We have some pretty intimate discussions where I'm like, 'Okay, she's talking to me about this stuff, and I'm her mom? This is really good!'"