Candace Cameron Bure to Those Who Mock Prayer: They've Never Experienced Its Power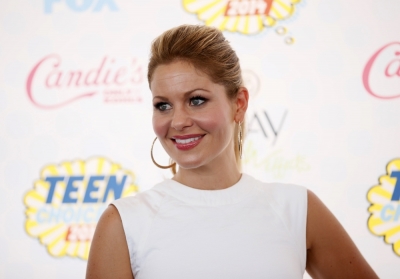 Actress Candace Cameron Bure believes deeply in the power of prayer.
The "Fuller House" star stopped by the Faithwire newsroom in New York City on Monday to discuss faith, life, her new book and plenty more, spending a fair amount of time addressing the importance of prayer in her own life.
READ: Sharon Tate's Sister Reveals Her Must-Read Reaction to Cult Leader Charles Manson's Death
Bure, who released the book "Staying Stylish: Cultivating a Confident Look, Style, and Attitude" this week, specifically responded to those who say "prayer isn't enough" or who mock invocations in the wake of tragedy.
"It bothers me and I feel sad for the people who write it, because the first thing I think is, 'Well, they've never experienced the power of prayer. They just don't know,'" Bure said. "Prayer, for me, is always where you start. That's the start of your solution. Then, yes, you take action."
Bure went on to offer a detailed assessment surrounding why she believes prayer is the starting place.
"If you don't start with [prayer] there's no power behind it, because God's the power," she said. "God can do anything, change anything — change hearts. It's the heart of all of us that need to be changed and that's where God needs to get in."
Listen to Bure discuss prayer and plenty more below:
The actress also spoke about the daily role prayer plays in her everyday life, saying that she doesn't feel quite balanced when she doesn't take the time to give thanks to God, appealing to "his truths and not [her] own emotions."
"If I've got a tough day, God's right there with me by my side," Bure said, going on to say that the believes many people misunderstand prayer and fail to realize that it is "an open dialogue with God at any time of the day or night."
In her own life, she said that she vents to God and shares her most pressing and important concerns and she encouraged others to do the same. In fact, prayer is a central element in her book "Staying Stylish."
"There's nothing too small to talk to Him about there's nothing too crazy or big idea to ask Him about," Bure said. "Whether its praise or asking for help it's just an ongoing dialogue."
Originally posted at faithwire.com