Kirk Cameron's Sister, Candace Cameron, Shows Support for Chick-fil-A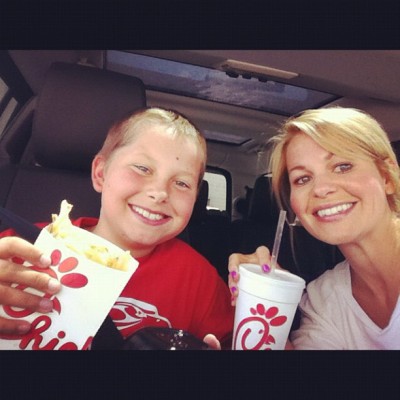 Candace Cameron Bure, sister of actor and outspoken evangelical Christian Kirk Cameron, took to Twitter on Wednesday's "Chick-fil-A Appreciation Day" to show her "love" for the fast food chain and its CEO's Christian beliefs.
"We love chikin!" Cameron, who starred as DJ Tanner on the hit 1990s sitcom "Full House," tweeted as her caption to a photo of she and one of her children chowing down on Chick-fil-A.
Candace Cameron, who has three children with husband and former NHL player Valeri Bure, notes in her Twitter biography that she "Loves Jesus, being a wife & mommy, philanthropy [and] doing that acting thing."
Wednesday, Aug. 1 was declared "Chick-fil-A Appreciation Day" by former Arkansas Gov. Mike Huckabee who sought to rally support for Chick-fil-A CEO Dan Cathy, who came under fire early last month for expressing his Christian beliefs regarding traditional marriage.
Protests and boycotts ensued, but many Americans appreciated Cathy's candid and firm dedication to his Christian faith and turned out in droves Wednesday to buy Chick-fil-A's trademark chicken sandwiches and waffle fries.
In addition to sharing his sister's love for acting, Kirk Cameron has also been vocal about his love for Jesus. Cameron, who starred in the 1980s sitcom "Growing Pains," has also become an outspoken advocate of traditional marriage.
In a March interview with "Piers Morgan Tonight," Cameron told Morgan that, according to the Bible, he believes that homosexuality is "unnatural" and "detrimental, and ultimately destructive to so many of the foundations of civilization."
Cameron came under immense public scrutiny for his comments, which were deemed homophobic, although the evangelical Christian reasserted in several subsequent interviews that he does not condone the bullying of any group of people, loves all, and is simply abiding by his Christian beliefs in Scripture.
Candace Cameron, who is Kirk's youngest sister, has also made similar statements, reportedly having said: "One man, one woman for life till death do you part. ... So do I support the idea of gay marriage? No, I don't."
Candace Cameron sometimes speaks at churches across the country, and is a spokesperson for National House of Hope, a Christian organization for teenagers. She currently stars in ABC Family's "Make It Or Break It" series.
Aug 1, 2012 Chick-fil-A Appreciation Day