Candidates Attack Donald Trump, Hillary Clinton, in First Republican Debate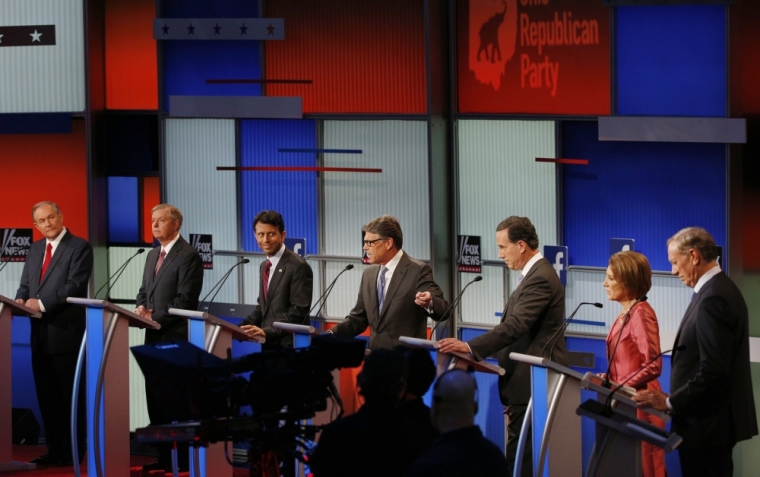 Seven candidates in the first of the evening GOP debate took several memorable jabs at Republican frontrunner Donald Trump and Democrat Hillary Clinton in Cleveland.
The inaugural debate, hosted by Fox News Thursday, consisted of seven candidates who did not make the top ten based on polling selected by the news network. The GOP currently has 17 major candidates in the race for the party's nomination.
Right out of the gate, with the second question of the night addressing Donald Trump, former Texas governor Rick Perry ripped the GOP front-runner for his past positions on health care.
"How can the nominee for our party be for single payer health care?" asked Perry.
Trump, who at one time says he supported single payer, has changed his position, saying more recently "it is not the best system for America."
Carly Fiorina, who was heavily praised on social media for her poise and expertise, took a jab at Trump for taking political advice about running from presidency from former President Bill Clinton.
"I didn't get a call from Bill Clinton," she joked, as she criticized Trump for donating money to the Clinton Foundation and Hillary Clinton's U.S. Senate campaign.
"Hillary Clinton lies about Benghazi, she lies about emails, she is still defending Planned Parenthood, and is still her party's frontrunner," Fiorina declared in her closing statement.
"2016 is going to be a fight between conservatism and a Democrat Party that is undermining the very character of this nation. We need a nominee who is going to throw every punch, not pull punches, and someone who cannot stumble before he even gets in the ring.
"I'm not a member of the political class. I'm a conservative. I can win this job. I can do this job," Fiorina said.
Senator Lindsey Graham, R-S.C., took several swipes at the Democrat front runner. "To all the Americans who want a better life, don't vote for Hillary Clinton."
Graham talked about his financial struggles after his parents died at a young age, and how he had to step in and take care of his younger sister as a college student. He used the personal story to attack Clinton.
"I'm fluent in Clinton speak," said Graham. "I know the difference between being flat broke, apparently she doesn't."
Graham depended on Social Security survival benefits as a student after his parents' death and said he would forego some of the money he's paid into the system to save it.
Bobby Jindal used his opportunity to credit Bernie Sanders for "at least being honest to call himself a socialist, unlike Clinton and Obama."
Candidates fielded questions on ISIS, the economy, illegal immigration, Iran, and abortion. Former Virginia Governor Jim Gilmore touted his military experience and long public service as his reason for recently entering the GOP race. He said he grew Virginia's economy and cut taxes as governor.
Former presidential candidate Rick Santorum said that Roe. vs. Wade was not settled law and compared the abortion decision at the Supreme Court to the infamous 19th century Dred Scott decision, which protected slavery.
Former New York Governor George Pataki heralded his experience as governor during the 9-11 attack, but also attacked cronyism. "We have to end crony capitalism in Washington," he declared.
The first of the night GOP debate included one current governor, three former governors, a former CEO of Hewlett Packard, a current U.S. Senator and former Senator.