Candidates Talk God, Gays, Common Core at GOP Debate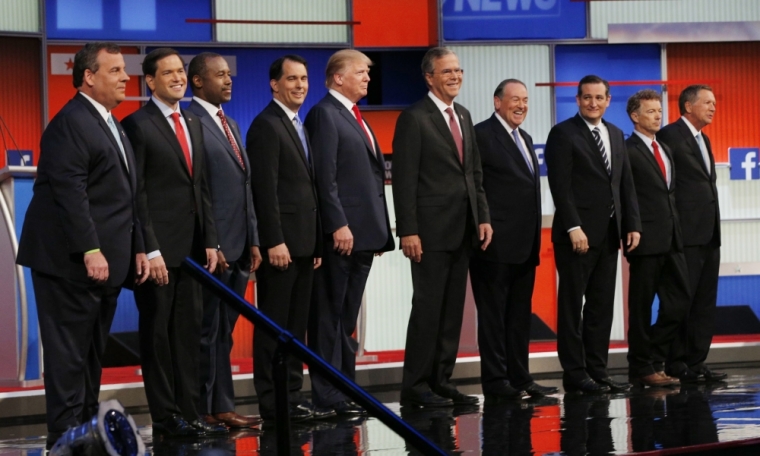 In a sometimes contentious presidential debate, Republican candidates took jabs at each other and Democrats, but concluded the night by singing God's praises.
"God has blessed us," Senator Marco Rubio declared. "He's blessed the Republican Party with some very good candidates. The Democrats can't even find one."
Fox News debate moderator Megyn Kelly asked the ten GOP candidates on behalf of a submitted question from Chase Norton on Facebook in the second debate, "what has God been saying to them about running for president?"
In his closing remarks, Wisconsin's Scott Walker declared, "It's only by the blood of Jesus Christ that I've been redeemed for my sins."
Before the debate even kicked off, retired neurosurgeon Dr. Ben Carson tweeted to his followers: "May the Lord guide my words tonight, let His wisdom be my thoughts."
Kelly asked Ohio's Governor John Kasich, "If you had a son or daughter who was gay or lesbian, how would you explain your opposition to same-sex marriage?"
Kasich replied that "I'm an old fashioned person here who happens to believe in traditional marriage."
Kasich said he would support the Supreme Court's ruling, then added, "I just went to a wedding of a friend of mine who happens to be gay," said Kasich. "Because somebody doesn't think the way I do, doesn't mean that I can't care about them and can't love them," said Kasich. He believed that issues like that "are planted to divide us," and Kasich pledged "unconditional love" and support for the people around him.
Texas Senator Ted Cruz told Kelly that "God speaks to me daily as I read the Scriptures." Adding that God speaks from the Bible.
"I'm the son of a pastor and evangelist and I've described many times how my father, when I was a child, was an alcoholic," Cruz said. "He was not a Christian. And my father left my mother and left me when I was just three years old.
"And someone invited him to Clay Road Baptist Church. And he gave his heart to Jesus and it turned him around. And he got on a plane and he flew back to my mother and me."
Cruz said that the race had a lot of "campaign conservatives" but said Republicans need a "consistent conservative."
Kentucky Senator Rand Paul was asked about what he would do to protect religious liberty in the wake of the Supreme Court's ruling on same-sex marriage. Paul responded by saying, "When the government tries to invade the church to enforce its own opinion on marriage, that's when it's time to resist."
Paul also alluded to possibly getting government out of the marriage business when he said, "Look, I don't want my marriage or my guns registered in Washington."
Moderator Brett Baier asked Rubio and former Governor Jeb Bush a question about Common Core. Bush, who has been a supporter of the federal measures noted, "I think the states ought to create these standards. And if states want to opt out of Common Core, fine."
Bush said that it was important however, for states that opt-out to "make sure they have high standards."
"Here's the problem with Common Core," declared Rubio. "The Department of Education, like every federal agency, will never be satisfied.
"They will not stop with it being a suggestion. They will turn it into a mandate," he declared.
Just the mere mention of the word "Common Core" drew a chorus of boos from the assembled audience at the debate in Cleveland.
The second debate of the night also included Mike Huckabee, Donald Trump, and Chris Christie.