Carolina Panthers' Jerricho Cotchery on His Christian Faith in the Locker Room and Playing in the Super Bowl (Interview)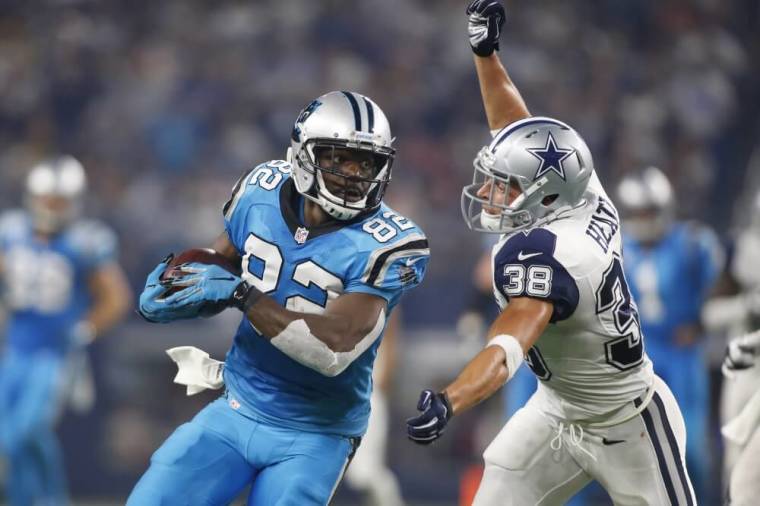 The NFL's Carolina Panthers are getting ready to play in the franchise's second Super Bowl. Their team is filled with high-character players on and off the field. Panthers wide receiver Jerricho Cotchery recently joined Christian Post contributor Bryce Johnson on his syndicated UNPACKIN' it radio show to talk about his faith and the team's exciting season.
Bryce: We know there are teams in the NFL with talented players, but they don't necessarily click as a team. However, this Panthers team has lots of talent, but also appears to be really team-minded. It's on the same page … really likes each other … and you've called the team special. So, how do you describe the uniqueness of this team?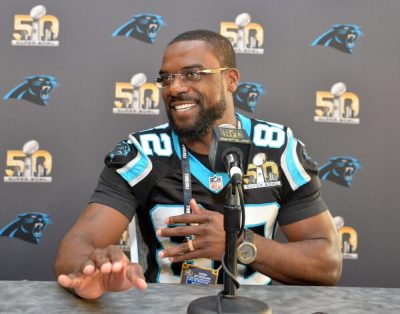 Jerricho: I think we're one. We're just a selfless group of guys that genuinely want to see the next man succeed. When you've got a bunch of guys like that you're going to end up with a special group, and we truly have that.
We have guys that are willing to work and enjoy being around each other — that enjoy those informal moments where we get to sit down and have those conversations about anything. It's been a pleasure to be around this group. It was no different last year when we were 3-8-1. It was still a pleasure to come into work because of the guys this organization has brought into this locker room.
Bryce: Have the players created this culture, or is it a combination of the coaches also creating it? Is it intentional or is it that guys just naturally get along and click?
Jerricho: I think the organization has identified guys that they want to be in this locker room and that they want to represent the Carolina Panthers. They are Ron Rivera guys — guys that put the team first. The coach talks about the team all the time. It's about the team — it's not about one individual.
Guys have truly bought into that and everyone feels like their part of this thing. That's a special thing and you have to have a special coach in order to make that happen. Coach Rivera has done an excellent job, and the staff he has working for him are doing a great job as well.
Bryce: The other aspect of it is the faith side for a lot of these players, and yourself included, so what role has that played in some of the unity of this team and the deeper relationships that exist in that locker room because of the common thread of your beliefs and faith?
Jerricho: Faith always plays a role in the strong group of guys we have on the team. When you have that solid part in there, there's always that go-to group — especially in those moments that you have to deal with off the field.
I know people see these men on television and forget that they are regular people. They don't get to understand and see what guys are actually going through in their lives, so being able to be in those relationships through our faith has been a good thing for all of the guys — even the guys not part of the faith because they get to see us live it out day to day.
Bryce: That's huge for sure! What has God been personally teaching you throughout this season? What's something that's been on your heart throughout the year?
Jerricho: That as a Christian everything is always about grace. Not only when you are first saved, but throughout the entirety of your life — your growth as a man, as a husband, as a father, and even as a football player. It's all about grace.
Being undeserving is an understatement, but I am truly thankful for it and appreciate every moment. I thank God for everything that He is doing.
Bryce: What role do you have as being one of the veterans in the locker room, and being a husband and a father, when not all of the guys are at that stage of life? What is that dynamic like from your perspective — wanting to represent being a good husband and father for some of the younger players?
Jerricho: That's at the center of everything I do. At the end of the day, being a Christian is my agenda … it's a heavenly agenda.
I just want to make sure that I represent God the right way before these young men, so that they can see what a husband looks like, what a man looks like, what a dad looks like, and have God glorified from that. So I won't do anything to put a stumbling block before them as far as how they are to see God. When they see that, it's a wonderful thing ... and guys gravitate toward that. There are always those opportunities.
I don't necessarily try to detach the things that I say from the things that I do because I believe when you're married you can't detach those two from each other. Whatever they see me doing, they are able to match it up with my words and able to see a complete picture of what God represents … and it makes sense for them.
Bryce: Thank you for sharing your heart today, Jerricho. We wish you the best. Thank you so much for joining us on UNPACKIN' it!
You can listen to this and other UNPACKIN' it interviews here: Podcasts.
Bryce Johnson is the host of the nationally syndicated sports and faith radio show, UNPACKIN' it. As the president of UNPACKIN' it Ministries, his vision is to daily impact sports fans everywhere. Bryce interviews well-known and faithful sports figures about their lives on and off the field while also giving a Biblical perspective on intriguing stories in sports.