Carson Wentz Trusting in God's Perfect Plan After Season Ending ACL Injury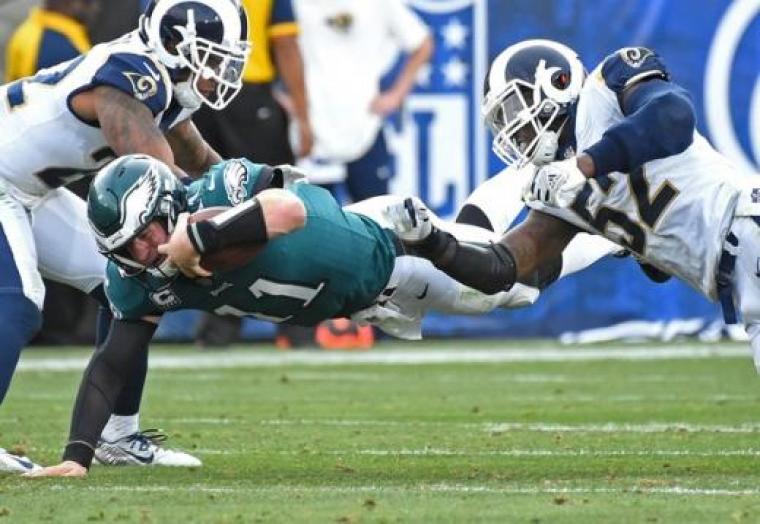 Carson Wentz's NFL season came to an end with an ACL injury Sunday, but that isn't stopping him from trusting that God has a perfect plan.
Wentz, 24, found a reason to celebrate his team and God despite tearing his ACL in the Eagles' 43-35 win against the Los Angeles Rams Sunday. That win helped clinch the Eagles' 2017 NFC East championship.
Even though Wentz's injury has officially ended his season, he took to Twitter to support his team.
"NFC East Champs! So proud of the resiliency of this team," Wentz tweeted Sunday. "Such a special group of men. And I greatly appreciate all the prayers!"
He also shared a scripture and his mindset after a brutal injury.
"I know my God is a powerful one with a perfect plan," he wrote. "Time to just lean in to Him and trust whatever the circumstances! #Proverbs3:5-6."
This season, a number of Eagles have been vocal about taking part in multiple Bible studies throughout the week. Last month, Eagles tight end Trey Burton blamed Satan for his teammates getting injured after they focused on God.
"We've had a lot of guys who are strong leaders get hurt after showing their boldness for the Lord," Burton said in a CBS Sports report. "Satan can't control us on the field, so he's going to try to attack us off the field, attacking us physically."
Earlier this year, Wentz opened up about his faith at a live event that took place at Eastern University in Pennsylvania. While there, he explained the concept of God's grace and how it separates Christianity from other religions in the world.
"Ephesians 2:8-10 — 'For it is by Grace that you have been saved through faith — and this is not of yourselves, it is the gift of God — not by works, so that no one can boast. For we are God's handiwork, created in Christ Jesus to do go works which God prepared in advance for us to do,'" Wentz said on the "Faith on The Field" radio show event broadcast on Philadelphia's 610 AM.
"So when I learned about this grace and learned about how my view of Christianity was really just flipped on its head, because you see, Christianity is the only religion in the world that you can't earn Heaven, you can't earn an afterlife, you can't earn reincarnation or whatever it is that other people believe."